Oh, Hawaii.
It has a very special place in our family's heart, as it is where my husband and I got married! (click here for our Wedding Photos + Video)
Hawaii is our favorite family destination, so far. 
Our toddler (1.5 years old at the time) loved it! Yes, of course she was obsessed with the beach. So much, that she KNEW how to walk there from our Airbnb! How crazy, right?!
When we were not at the beach, there were so many other things to fill up our days. 
Below is our list of
TOP 10 THINGS TO DO
IN OAHU, HAWAII
WITH TODDLERS + KIDS
We hope you enjoy these places as much as we did!
1) Turtle Beach!
Laniakea Beach | 61-676 Kamehameha Hwy Haleiwa, HI

We live in Southern California, and have been to many beaches, but there is no beach like this one… because this one has turtles! 
We have seen turtles at other beaches on the island, but this one is where we saw the most. We loved seeing all the turtles relaxing on the beach (as they should be!)
Heads Up: Parking can be a little difficult, be patient with it. Haleiwa is a great area, so if you can't find parking right away, feel free to walk around the town! They have the best shaved ice at Matsumoto 😉
2) Hoomaluhia Botanical Garden
45-680 Luluku Rd | Kaneohe, HI 

pc: yelp.com
This is the largest botanical garden on the island, with 400 acres of beauty. And guess what?! It's FREE to enter! 
We loved that you can simply drive or walk around the property and still be able to take in all the beauty. It was absolutely peaceful!
For activities, feel free to visit the Visitors Center for more info on fishing, kayaking, camping, and more!

Items We Love During Our Visit:
Best Picnic/Beach Blanket
You can easily roll up the blanket and it's waterproof!
Kids Binoculars
Our daughter takes this everywhere! She saw birds at the botanical garden and was so excited.
3) Pu'u 'Ualaka'a State Park
2760 Round Top Dr | Honolulu, HI

pc 1: yelp.com
Views. Views. Views!!! This place is great, because you can just drive up here and lookout at the ocean, Waikiki skyline, and even, the Diamond Head volcano. 
No need to trek your kids uphill, just drive up the hill and park. Simple, breathtaking, and beautiful!
4) Free Fireworks!
2005 Kalia Rd | Honolulu, HI

pc: yelp.com
Free – parents' favorite word
Fireworks – kids' favorite word
This is clearly a win-win! 
The Hilton Hawaiian Village Hotel lights up fireworks every Friday evening on Waikiki Beach. The fireworks show usually begins at 7:45pm or 8pm and lasts about ten minutes.

Where can you see the fireworks?
The beach nearby
Tropics Bar & Grill
(the resort's beachside restaurant)
100 Sails Restaurant & Bar
(we had their buffet, and if you like seafood, this place is PERFECT! Request a window view to see the fireworks)
Barefoot Beach Cafe
Pu'u 'Ualaka'a State Park
(you can go back to see the fireworks from the top of the hill!)
5) Aulani Character Breakfast
92-1185 Ali'inui Dr | Kapolei, HI

Like most Disney "things," yes, it is pricey, but we felt it was totally worth it because our family is obsessed with Disney (so much that our pregnancy announcement AND gender reveal was Disney themed).
Our daughter still talks about Aulani! She still looks on our phones for all the pictures from Aulani and says how much fun she had! She was about 1.5 years old when she went, and now she is 2.5 years old. 
We loved that it was an all-you-can-eat buffet AND the characters come around to each table to interact with you!
You can also take photos with them and get their autographs. (Our daughter has an autograph book that she takes to Disneyland.)
TIP: MAKE RESERVATIONS! This is very important, as it is a popular destination for families. 
CLICK HERE for other activities at Aulani!
Items We Love During Our Visit:
Disney Autograph Book
Tenley takes this book to Disneyland, Disney on Ice, and now Aulani!
Babyganics Sunscreen
We love this sunscreen ever since Tenley was a baby.
6) Dole Plantation
4-1550 Kamehameha Hwy | Wahiawa, HI

Personally, I thought it was okay, BUT our daughter absolutely LOVED IT. So as a parent, it was well worth it!
There were so many areas to keep her entertained! I felt like all the kids were having a blast, while parents were enjoying their Pineapple Dole Whip (yep, just like the one at Disneyland!)
You can get tickets for the 20 minute train ride and the "World's Largest" Maze!
Dole Plantation was all very stroller friendly, even in the maze. 
7) Honolulu Zoo
151 Kapahulu Ave | Honolulu, HI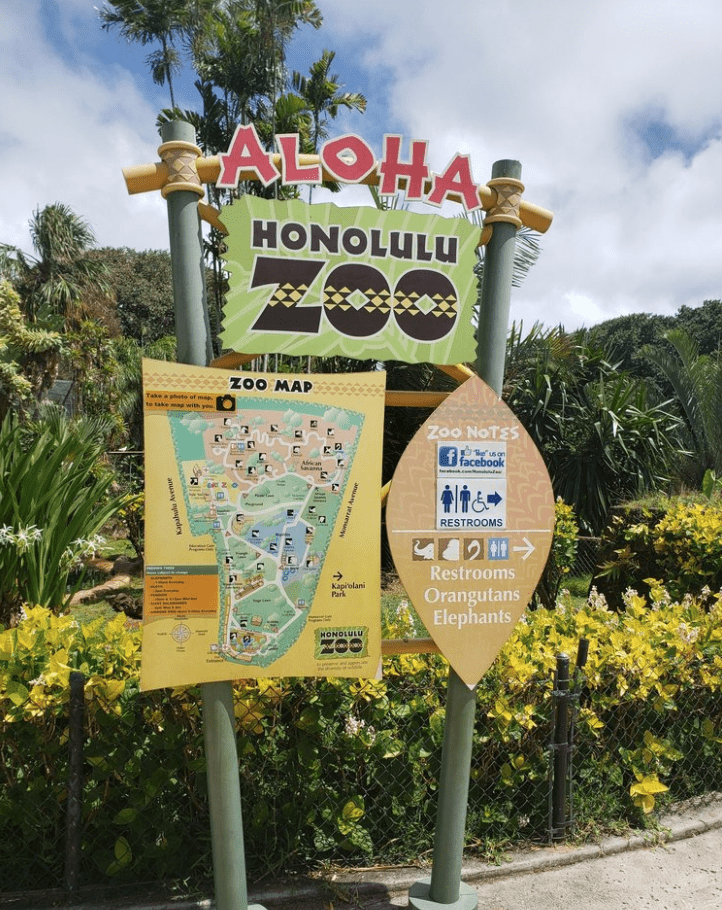 pc: yelp.com
What kid does not like the zoo, right?!
This zoo is 42 acres and has over 1,200 unique species of animals! 
It is very stroller friendly and it has large trees for shade. 
For kids 6 years and under, there is the Keiki Zoo inside for kids to interact with farm animals (which is always my personal favorite!)
TIP: children 2 years and under are free!
Items We Love During Our Visit:
Mini Stroller Fan
This was great for our whole Hawaii trip! It easily clips on to the stroller.
Mini Individual Fan
For those Marilyn Monroe moments, when you just want your hair to be blown by the glorious fan 🙂 This is always handy!
8) Hiking!
All Over the Beautiful Island

There are so many great hiking trails on the island. I will be recommending two that are great for families! 
I do highly suggest bringing a baby carrier or be ready to carry them for some parts of the hike. Our daughter unfortunately didn't feel well for a couple of days, so she stayed back with my parents and we went hiking (but I know, she would've loved it!)
1) Manoa Falls (photos above)
3860 Manoa Rd | Honolulu, HI
2) Pillbox Hike (photos below)
382-498 Kaelepulu Dr | Kailua, HI
Obviously, I do not recommend taking your toddler on top of the pillboxes. You can still have great 360 degree views without climbing on them!
Items We Love During Our Visit:
Favorite Baby Carrier
I found that this carrier has been great around the house, running errands, and even hiking!
Child Carrier Backpack for Hiking
My husband prefers this for hiking and carrying our daughter. It all depends on what you are most comfortable with 🙂
9) Polynesian Cultural Center
55-370 Kamehameha Hwy | Laie, HI

pc: yelp.com
We LOVED their award-winning show, Ha Breath of Life. It was not only beautiful, but educational. 
It was entertaining enough for our daughter, with all the fire and dancing!
We went to one of the night showings, and didn't have time to walk around. Thankfully, their ticket gives you the option to come back to the Polynesian Cultural Center to enjoy it during the day. 
We are so glad we came back! 
The Polynesian Cultural Center is over 40 acres and represented all the major Polynesian cultures, such as, Fiji, Samoa, Tahiti, Tonga, etc. Each culture had their own "village" where you could learn more about them. 
Our daughter loved walking around and seeing the different villages and the beautiful landscape throughout the place. 
Fun Fact: Most of the employees here are BYU-Hawaii students, and the profits from the Polynesian Cultural Center fund various scholarship programs. 
10) Best Beaches for Families!
All Over the Beautiful Island

Lanikai Beach (Favorite beach of all time for its clear water, pictured above)
Kailua Beach (If Lanikai is crowded, this is the second best and nearby!)
Hanauma Bay (Best place to snorkel. There are over 400 different beautiful species in the water. The water is calm, which is perfect for kids. It does get crowded! Go early.)
Waikiki Beach (I know this is pretty obvious, but we liked it because it was right next to great places to shop and eat, so it was an easy close walk to the beach from the city. We highly recommend eating at Duke's! It is very kid friendly and you can request to sit on the patio with the ocean right next to you!)
Items We Love During Our Visit:
Kids Full Face Snorkel Mask
I wish I had this when I was a kid! It makes it so easy for kids to look underwater.
Honorable Mentions
Other great places for families, that may not be toddler friendly, but more kid friendly!
Kualoa Ranch
49-560 Kamehameha Hwy | Kaneohe, HI

This is where we got married! Not only is this place beautiful, but it is where they filmed many blockbuster movies, including Jurassic Park, and shows, like Lost. 
My husband is a huge Jurassic Park fan. Believe it or not, I walked down the aisle to the instrumental version of the theme song…yep! (see photos here)
Kualoa Ranch offers A LOT of different activities, such as, kayaking, ATV tours, bus tours, and more. BUT the age requirement is 3+ years. Unfortunately, my daughter could not join us. 
We went on the Hollywood Premiere Tour via bus. It was totally worth it if you are a big movie buff like my husband!
Next time, we want to ride the ATVs! It just looks like so much fun.
Pearl Harbor
1 Arizona Memorial Pl | Honolulu, Hawaii

pc: yelp.com
This is a must for everyone, but not for kids who may not understand the history of the Pearl Harbor attack. I remember coming here when I was in middle school and really appreciated it. (I was a history nerd.) 
I highly recommend to plan ahead for this trip! Go on their website and see all the details. 
I hope you and your family enjoy our list!
COMMENT BELOW
if there is anything that YOU would add to this list.
(because let's be real, we will be returning to Oahu in the future!)
↡ ↡ PIN IT on PINTEREST ↡ ↡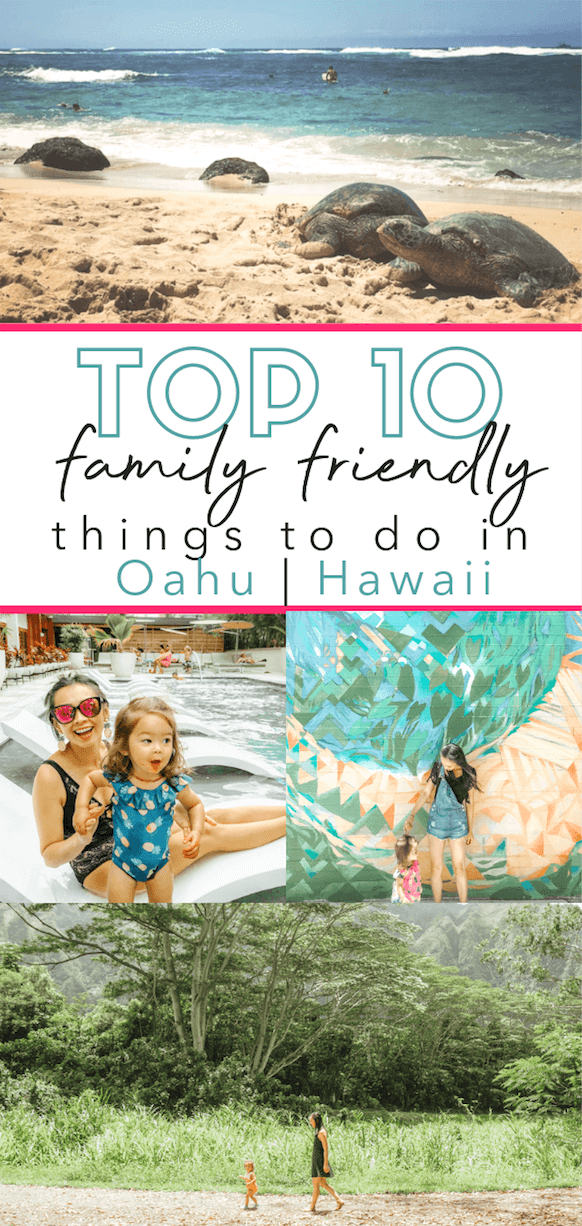 RECAP:
Items We Love During Our Visit