Anyone have dinosaur loving kiddos?
In our home, I have a dinosaur loving daughter and husband!
My husband loves dinosaurs so much that we got married where they filmed Jurassic Park. (yep, it's true!)
With that in mind, I wanted to create something that would entertain my toddler AND let's be real, buy me some quiet time.
(CONFESSION: At this point, I am 30 weeks pregnant with our 2nd, and boy oh boy…I just want to lay down on the couch LOL)
I LOVE this FROZEN DINOSAUR EGG Activity because…
it takes less than 3 minutes to make!
 it entertains my toddler for a good 45 minutes!
it is a perfect outdoor AND indoor activity!
 THIS is a win-win for both kids and parents!
Parents, you can thank me later 😉 

Cheers to 5 minutes of DIY + 45 minutes of entertainment for the kids!
Let's get the fun started!!!
How to Make Frozen Dinosaur Eggs!
• M A T E R I A L S •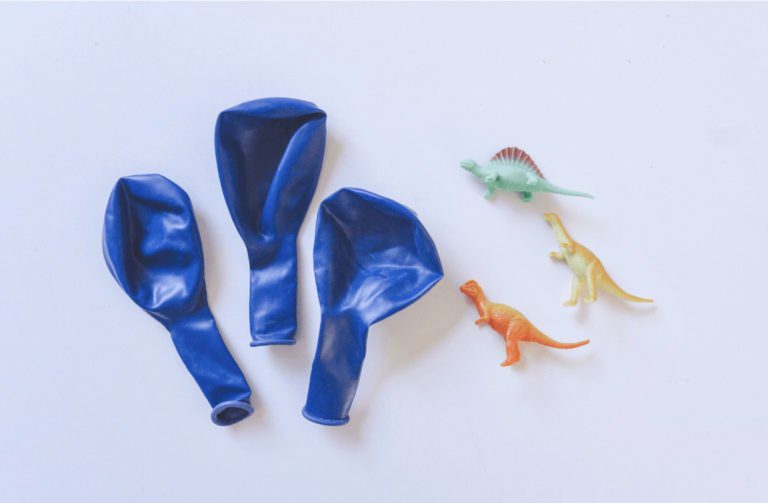 You really only need to get TWO ITEMS for this Frozen Dinosaur Eggs Activity!
*These dinosaurs are the best! We use them for everything, from Easter Eggs to cupcake toppers and more. These dinosaurs are non-toxic, lead-free, and free of phthalates. (Perfect for kids and babies who like to put toys in their mouths!)
ADDITIONAL ITEMS:
This is the fun part, because you can just gather things that you already have at home! Pick items that will help your kids melt the Frozen Dinosaur Eggs and "tools" that they would have fun using. Here are some examples:
▷ Kids Watering Can
▷ Kids Tool Set
▷Water Spray Bottle
S T E P • O N E
Lightly stretch out the balloon with your hands. This helps with the balloon's elasticity.
S T E P • T W O
Add your mini dinosaur(s) into your balloon! Feel free to add more than one, if you like. I sometimes mix it up to surprise my daughter 🙂
S T E P • T H R E E
Place your dinosaur filled balloon under the faucet, and add water! Tie your water-filled balloons and put them in the freezer. THAT IS IT!
How easy is that?!
I usually make these at night when my daughter is sleeping and surprise her in the morning!
Once the eggs are frozen and ready, just simply cut the balloons with scissors and it's all ready to entertain the kiddos!
Parents, now it is time to sit back OR play with your kids on "saving" these dinosaurs from the frozen eggs!
My daughter spends anywhere between 30-45 minutes doing this activity. It's really neat to see how creative she gets in trying to get the dinosaurs out!
After the kids "rescue" and take out the dinosaurs from the frozen eggs, encourage them to play with them!
Immediately after she took out the dinosaurs from the eggs, my daughter got out her outdoor toys and used the basket with the grass and started playing.
Love seeing kids use their imagination with what they have!
FYI: Many people ask me what kind of grass is in the basket, it is actually Spanish Moss! You can purchase it here.
Hope you and the kids have fun with this fun sensory activity!
↡ ↡ PIN IT on PINTEREST ↡ ↡