Tenley's Christmas present!
She was so excited to get her very own
personalized kitchen that is inspired by
our favorite restaurant, Malibu Farm!
You too can EASILY create something like this for your little ones!
So…
this may be your 100th+
Ikea play kitchen hack
you have seen on Pinterest or Instagram.
You may be asking…
Why are there

so

many
Ikea Play Kitchen Hacks?
Parents love the Ikea play kitchen for many reasons, such as:
♦ It is height adjustable.
This kitchen is good for years to come! It is appropriate for toddlers and on.
♦ It is affordable at $99.
♦ It is 100% easy to personalize!
♦ It is a FUN Ikea Hack.
Truth be told… Ikea Hacks are my obsession!
Once you start, you just can't stop. Pretty much like Pringles, but less calories.
To spice things up…
(kitchen pun intended)
I decided to do something different.
Welcome to the Kitchen Got Back version!
What in the world am I talking about?
Okay, you caught me.
I wanted an excuse to throw in Sir Mix-a-Lot's "Baby Got Back" in a blog post! LOL.
(I promise, it applies to this project.)
The majority of Ikea play kitchen hacks focus on the "front" of the kitchen.
I decided to focus on the back of the kitchen, because I envisioned that my daughter and I would have more interaction, if the kitchen functioned like a food stand or food truck.
Also, it trains her to learn how to cook and serve me food. Train them young right?
Totally kidding.
Design Inspiration?
We played around with a couple of ideas.
Our ideas bloomed from a list of her favorites…
Favorite Movie: Moana
Favorite Character: Minnie Mouse
Favorite Food: Kale Chips, etc.
As funny (and odd) as a Kale Chip Kitchen would be…
the winner was our favorite local restaurant, Malibu Farm.
If you are ever in Southern California, be sure to check it out!
We love that they they serve local and organic dishes and
there is the pier that Tenley can run around to tire her out before naptime.
It is always a win-win situation for the whole family!
Photos of Malibu Farm:







Want more photos of Malibu Farms?
Check out one of my favorite mamas, Chelsea Norton,
when her family were in town and went here too!
---
TIME TO DIY!
The "Ah, I am a parent moment!"
You know when you are a parent,
when you are overly excited to plan, personalize, and
pimp this play kitchen for your child! 🙂
WATCH the video below to see how Malibu Farms inspired our play kitchen!
——————————­­­­­­­—­-­­­­­­­—–­­­­­­­­­­-­­­­­­­­­­­-­-­-
Products:
Gorilla Glue
(highly recommend using instead)
Wood Frames: Home Depot
---
Ta-da!
Before:
After: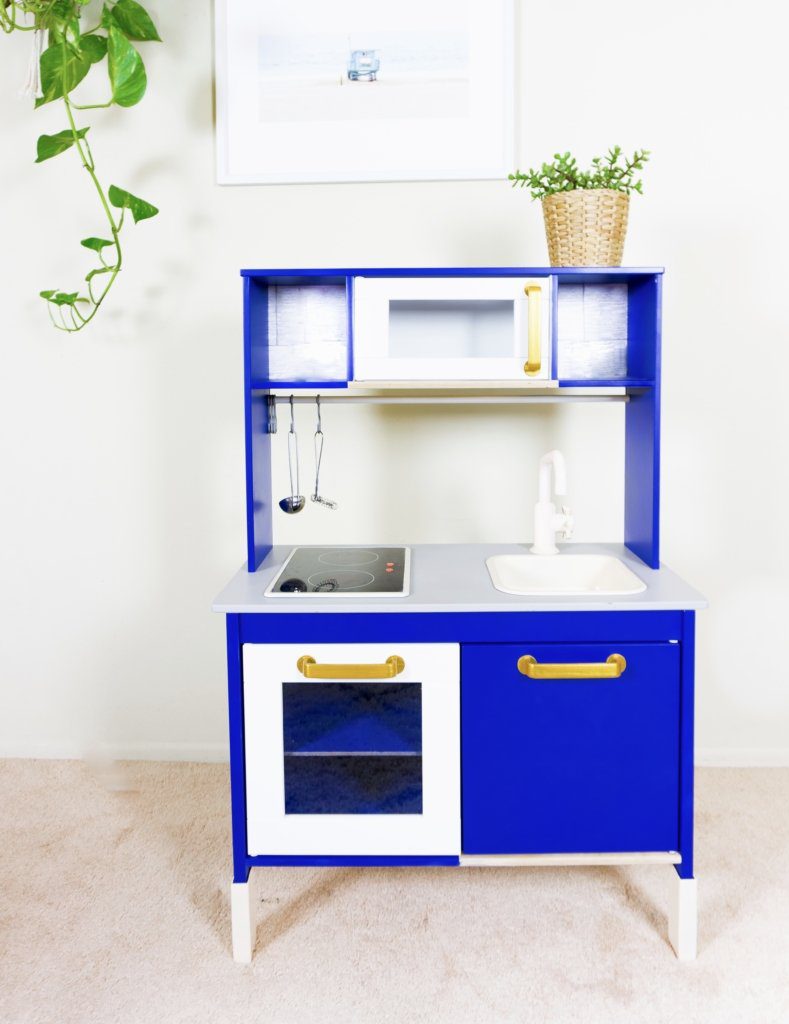 SURPRISE!!!
The Reveal:
DIY Ikea Duktig Hacks
That Inspired Me:
Offers a great tutorial (step-by-step guide)
Another great tutorial + Ikea hack for a kids play fridge!
Other "Kitchen Got Back" Inspos!
Offers adorable pre-made stickers for the back of the Ikea Duktig Kitchen!
aka: GENIUS!
Have

YOU

hacked an Ikea play kitchen?
If so, I would love to see it!!
Comment below or send me an email with pictures!
Thinking of doing one for your little one?
My best advice…
Do it

!
It is so much fun to personalize!