What? Really? Why?
This is a thing??
Yes! Breastmilk Jewelry is totally a thing.
Yes! It really does exist, and moms are going crazy over it!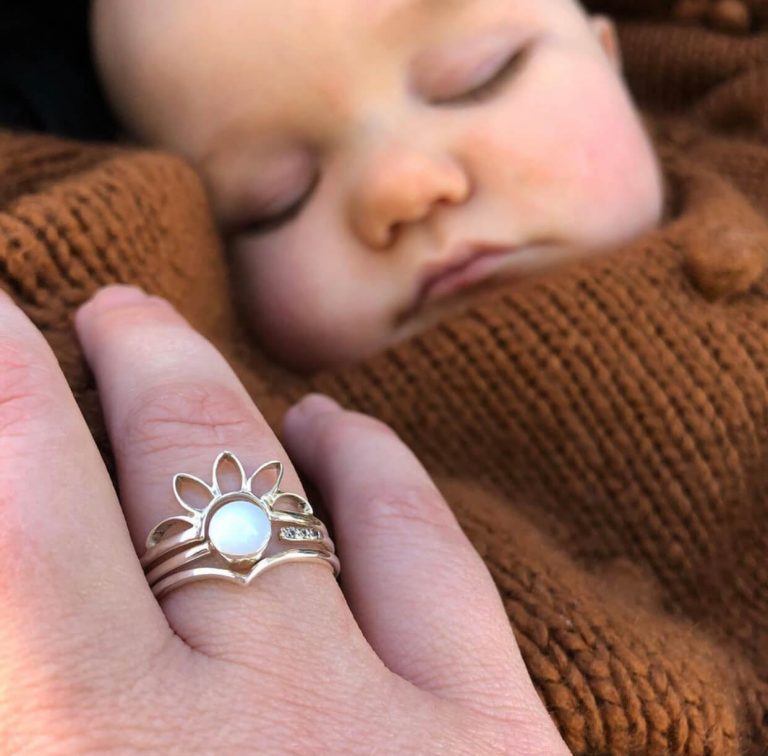 I decided to write about breastmilk jewelry after discovering that many people did not know that breastmilk jewelry existed through a poll on my Instagram stories. 
Surprisingly, 80% of my followers on Instagram had no idea!
And about 75% of my followers are moms! 
On the flip side of things, I did get some people commenting that the idea of breastmilk jewelry is kind of weird. Which is totally understandable, especially if you have not had your own breastfeeding journey.
It even took my husband a bit to wrap his head around the concept. But now he is gifting me some breastmilk jewelry pieces for Mother's Day because he sees how much it means to me and understands the sentimental aspect of it.
I am so excited to receive my own piece of breastmilk jewelry!
For days, I have been looking around online via Google, Instagram, etc. for the best breastmilk jewelry shops and I am happy to share…
The Best SIX 
Breastmilk Jewelry Shops!
2. Preservation Creations*
website | instagram
*promo code below!
So why do…
Moms
Want Breastmilk Jewelry?
Below I am Sharing Stories + Photos from Moms Who Love These Top 6 Breastmilk Jewelry Shops
↡  ↡  ↡
1) The Milky Way Jewelry
"When I envisioned my breast feeding journey, I always imagined that it would just come naturally to me. That was not the case. Breastfeeding is hard.
For Mother's Day this year my husband got me a ring and necklace made with my breast milk.  It symbolizes every tear and every beautiful intimate moment I have had with my 3 kids. I fought so hard to get to where I am today and so thankful I have the ability to produce, even if it's not how I hoped it would be."
Aubrey from @raisinghiswildflowers 
"It's sentimental to me because nursing was never possible for my first born because of her cleft lip and palate. 
So instead I exclusively pumped for 9 months + built up a huge freezer stash. It was a true labor of love, and something I'm so proud of. My daughter had to work hard to learn how to use a bottle with her cleft, so I felt like I wanted to try just as hard to provide her with my breastmilk. It wasn't what I imagined our feeding journey would look like, but it was teamwork and hard work, and it was beautiful."
"My breastfeeding journey was like several mothers. HARD. Early delivery via csection, tongue tie, jaundice and first time mom. On top of that my lactation consultant and I figured out that I fell into the very small category of moms (less than 4%) with IGT (Insufficient Glandular Tissue) making it near impossible to produce the milk my baby needed. 
It was a trying several months, when finally, I decided to step away from the pump and just enjoy my little baby instead of worrying about what he was getting fed. After all, fed is best, but watching your body fail you in the way that I had watched so many others succeed was rough. I loved that this particular company because they only required 1/2 an ounce which was a life saver for a true low supply mom."
2) Preservation Creations

PROMO CODE: TIFFANIE10 CURRENT MOTHER'S DAY 2020 SPECIAL:
Orders over $55 receive a FREE Pair of Earrings! 
You know when you talk to someone and you instantly want to be their best friend?! This is how I feel about this mama who is the rockstar behind Preservation Creations. 
She has so much heart and love that her goal is to make it affordable for moms to have a piece of their journey preserved forever. 
When she first heard about Breastmilk Jewelry she said, "I was surprised by the cost! I mean come on people, I just had a baby! We're all broke, right? These tiny humans are expensive. 
I experimented around with dozens of recipes for months until I came up with the exact "formula" I felt comfortable in producing a keepsake to last forever."
I am so happy to be receiving a beautiful necklace from her, which I will share when it is delivered! 
Keep an eye out on my Instagram!
3) Milky Mudra
"After breastfeeding 5 different children, each with various challenges along the way, this is a keepsake I wanted to have as I round out that chapter of my life. 
It is a physical reminder that I've persevered through many challenges. Not all of those are breastfeeding related, but when I see this ring, it symbolizes for me all those exhausting and beautiful baby years. When I feel weak and lost I can look right there on my hand and remember I am strong."
"This pendant represents my call to Motherhood. More than that, it represents my deep passion and commitment to breastfeeding my child.
Breastfeeding after my home birth cesarian (homebirth transfer to hospital turned c-section) and my previous breast reduction from before, as well as lip/cheek/tongue ties was an obstacle that I was not willing to give up no matter what!!"
Courtney from @courtney.elsbury
"It means so much to me because I was pregnant with our second child and lost him right before Christmas. We decided to use the breastmilk that I pumped while I was pregnant with him into a breastmilk ring to honor his little life. I think of him and those sacred and difficult moments of his life and loss when I look down at it."
Melody from @melodyinthemaking
"I decided to have breastmilk jewelry made to commemorate my almost 2 years of exclusive pumping. Izzy had trouble latching and was losing weight quickly, so I made the decision to pump. I set 1 year as my goal but made it to 22 months. It was one of the hardest thing I have ever done, and my breastmilk ring reminds me just how strong I can be."
4) Made with Love Keepsakes
"This ring represents 6 months of exclusively breastfeeding my miracle daughter — with many tears of happiness, dedication, and devastation. Through all of my low supply, issues, being in the hospital numerous times, and McKenzie having lip/tongue tie issues for months, I could not be more proud of myself for making it as far as I did."
"I got this keepsake breast milk ring last year to celebrate 12 months of breastfeeding. Little did I know we would go 10 more months beyond that. I didn't even think we'd make it a week let alone almost 2 years! The infinity band will always remind me the bond Micah and I created around nursing."
5) Love Your Tribe
Sky from @living_the_blessed_life_
"Each day as I put this beautiful breast milk ring on my finger, I am reminded of how strong I am, how determined & persistent I was for all those months, even the times I literally sat in the dark alone at 1 am pumping with tears streaming down my face. I really did give it my absolute all and am grateful for the time that we did get to share while breastfeeding."
"I wanted to get something for myself (which is rare when you're a mother) that symbolized the journey of exclusively breastfeeding both of my daughters.
I had struggles to begin with when nursing my first daughter-low supply, latch issues, horrible cracked nipples, then she become jaundice. I pushed through despite all the struggles and then was able to continue feeding her stress free for 12 months!"
6) Beyond the Willow Tree
"Feeling grateful for a lot of things in our life right now – like meeting our goal to breastfeed for one year. I had the chance to commemorate our one year goal with Beyond the Willow's newest style and I love how simple it is."
What did my husband surprise me with?
For Mother's Day, my husband is surprising me with a necklace from Preservation Creations and a ring from The Milky Way Jewelry. 
I can't wait to see what they look like!
I recently sent in my breastmilk, and surprisingly, they needed only 1/2 an ounce! 
It can be breastmilk from today or even breastmilk from years ago. How neat is that?!
To see what my breastmilk jewelry pieces look like when they arrive, following along on my Instagram!
REMEMBER . . .
Whether you are exclusively breastfeeding or breast pumping or supplementing with breastmilk, or whatever it may be, 
Your breastfeeding journey is unique. 
Your journey is beautiful. 
Never compare your journey with anyone else's. 
The most important thing to know is that fed is best.
*Disclaimer: I wanted to share these amazing breastmilk jewelry shops AND share other moms' stories to show you that everyone has a different story and breastfeeding journey. 
PIN IT on PINTEREST 
↡ ↡ ↡ ↡