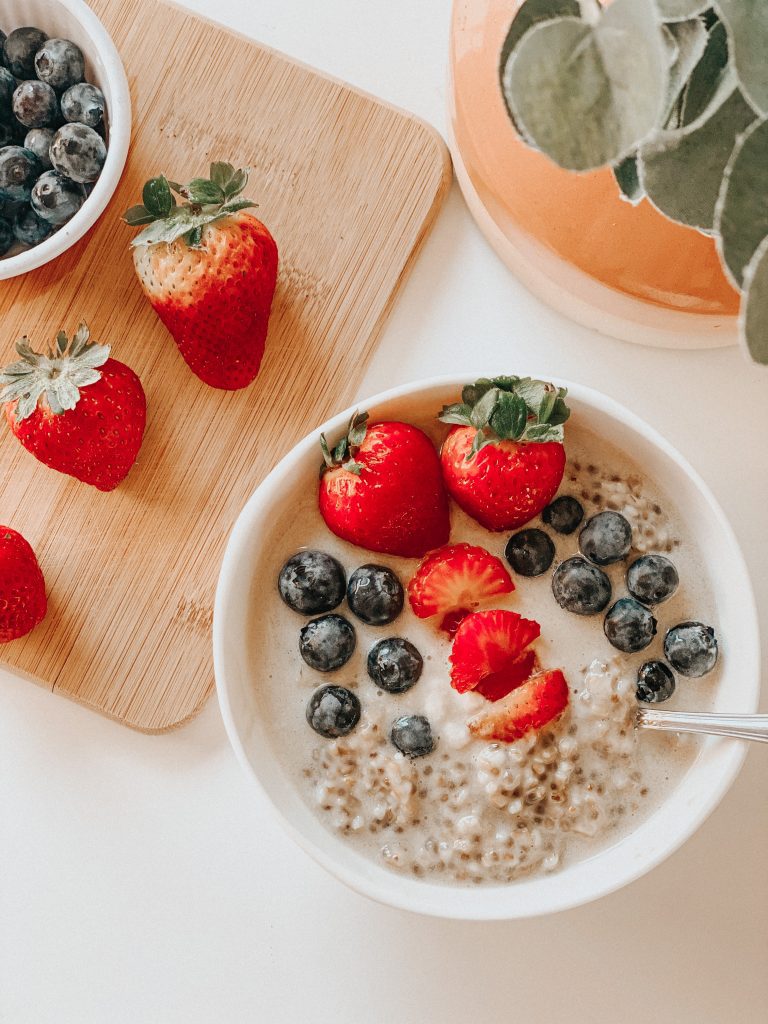 Postpartum Doula Recommended:
Every morning, after giving birth to my son. My postpartum doula would kindly cook me this for breakfast.
Yes, I had a postpartum doula and it was the best decision that we made! 
She greatly assisted our family during this transition from 1-2 children and it allowed my body to recovery both physically and mentally.
(I plan on writing a post about this in the future, because having a postpartum doula was life changing. Especially, for someone who had a very difficult time the first time around with recovery and postpartum depression.)
My postpartum doula said this oatmeal recipe has helped moms recover from delivery, and  increase breastmilk supply 
How Does this Oatmeal Help?
STEEL OATS:
Steel Oats provide nutrition, energy, and it can naturally aid mother's lactation. Note: if you are trying to boost your milk supply, DO NOT use instant oats.
CHIA SEEDS:
Chia Seeds are a great way to add protein, help muscle recovery, and more!
GINGER:
Ginger helps aid digestion, which is a must after pregnancy! Ginger also helps soothe sore muscles and reduces any nausea you may have. Ginger is like a powerhouse!
FLAXSEEDS:
This is optional. The flaxseeds are mainly for breastfeeding mamas. Flaxseeds have estrogenic properties that can help nursing moms make more milk
BREWERS YEAST:
This is another optional ingredient. It is very beneficial for breastfeeding mamas!
MUST HAVES :
For breastfeeding moms, these ingredients are a must!
Not just for this recipe, but for all of your meals throughout the day.
There are LOTS of different types of Brewer's Yeast and Flaxseeds. These two are my favorites on Amazon!
PS: You can easily add them in smoothies, soups, broth, etc. Just make sure to mix it well, so they do not clump in your food.
Berries & Cream Oatmeal | Vegan + Dairy Free
This oatmeal is packed with ingredients that naturally help with digestion, recovery, soothe muscles, and even helps breastfeeding moms increase lactation! (This oatmeal was recommended by my doula!)
FOR THE OATS
2 cups Steel Cut Oats
4 1/2 cups Water
1 inch Fresh Ginger (or 2 frozen ginger cubes from Trader Joe's)
2 tbsp Chia Seeds
FOR BREASTFEEDING MAMAS
1 tbsp Flaxseeds
1 tbsp Brewer's Yeast
FOR THE BERRIES + CREAM TOPPING
1 cup Coconut Cream
2 tbsp Coconut Oil (or Vegan Butter)
1/4 cup Maple Syrup
Fresh Strawberries
Fresh Blueberries
FOR THE STEEL OATS
In a large pot, bring 4.5 cups of water to boil at medium-high heat.

Add your steel oats and ginger.

Reduce heat to medium, and continue to let the steel oats to cook for approximately 15 minutes. It is important to not allow the water to over boil.

After 15 minutes, add chia seeds.

For breastfeeding moms: This is when you add the Flaxseeds and Brewer's Yeast. Mix it all very well in the steel oats. You do not want these dry ingredients to clump up.

Allow steel oats and the dry ingredients to cook for another 15 minutes. (You may add more water, if you want a more porridge consistency).

Once the dry ingredients and steel oats are soft, it is ready to be removed from the stove top, and place in separate bowls.
FOR THE BERRIES + CREAM TOPPING
If your coconut oil is in solid form, feel free to place it in a different pot or pan on low heat to melt it.

Once the coconut oil is melted in liquid form, mix it with all the other topping ingredients in a bowl.

Once it is all mixed, add it to the top of your steel oats in separate bowls. (NOT in the steel oats pot.)

Then add your fresh berries! ENJOY!
Enjoy!
Feel free to ask my any questions you may have via email or Instagram!
I will most likely respond quicker on Instagram!
↡ ↡ PIN IT on PINTEREST ↡ ↡