THIS POST IS SPONSORED BY RUBBERMAID BUT THE CONTENT AND OPINIONS EXPRESSED HERE ARE MY OWN.
Spring cleaning, anyone?
In the kitchen, we are swapping out the last of our plastic food storage items for new Rubbermaid Brilliance Glass food storage containers!
See why our family is switching from plastic to glass for our health and planet in my last post!
Before:
After:
(PS: CLICK HERE to get the best deal at Target for Rubbermaid's Brilliance Glass containers!!)
As we began swapping our old plastic food storage containers for new glass ones, we were wondering…
Wait…
What do we do with these well-used plastic storage containers?!
We didn't want them to end up in a landfill.
Rubbermaid Food Storage Recycling Program
Thankfully, Rubbermaid has an awesome partnership with TerraCycle, where they will take any well-used plastic and glass storage containers and transform them into something new!
How does this work?!
It is a super easy process.
1. Place your well-used plastic or glass food storage containers (it can be from any brand!) in a shipping box.
2. Register on TerraCycle.com and download a pre-paid shipping label.
3. Ship your box and TerraCycle will bring new life to your old storage containers!
Look below at how TerraCycle transformed a well-used storage container into a watering can!
When TerraCycle receives your old storage container, they break it down into these small pellets to help create something new!
The watering can below is made from recycled snack wrappers! How neat is that?!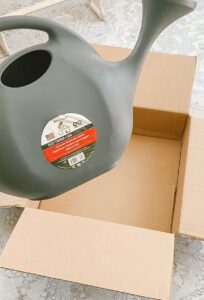 Plastic is made to last forever.
Yes, glass is the best option, but we have to also realize that there is a huge amount of plastic that exists in today's society.
It's okay if you do not own all glass items.
The more important thing to focus on is how to reuse and upcycle our plastic items so it does not end up in our landfills.
If we continue to give plastic new life and new functional purposes, like Rubbermaid Food Storage Recycling Program does, then plastic doesn't have to be wasteful.
My goal is to always find ways to reuse, recycle and upcycle everything I can!
This creates less waste and less harm to our planet. (And many times, it saves you and your family money!
Rubbermaid food storage has always been reusable for a long life, and now it's recyclable for a new life!
Next time you get new food storage containers, remember to send your old ones to Rubbermaid Food Storage Recycling Program!
Together, we can all be sustainable and care for our planet.
To live sustainably does not have to be hard. I am thankful for recycling programs like this to make it easy for us to be eco-conscious and responsible!
Pin it
on Pinterest!
↡↡↡