THIS POST IS SPONSORED BY CRICUT BUT THE CONTENT AND OPINIONS EXPRESSED HERE ARE MY OWN.
Have you ever upcycled and/or reworked the clothes you already own to make it "new" and different? It is an awesome thing to do! It saves you money, it is less wasteful and you can personalize it to your liking and even, make it trendy. For this project, I used my Cricut to upcycle and rework my denim jeans into trendy retro shorts!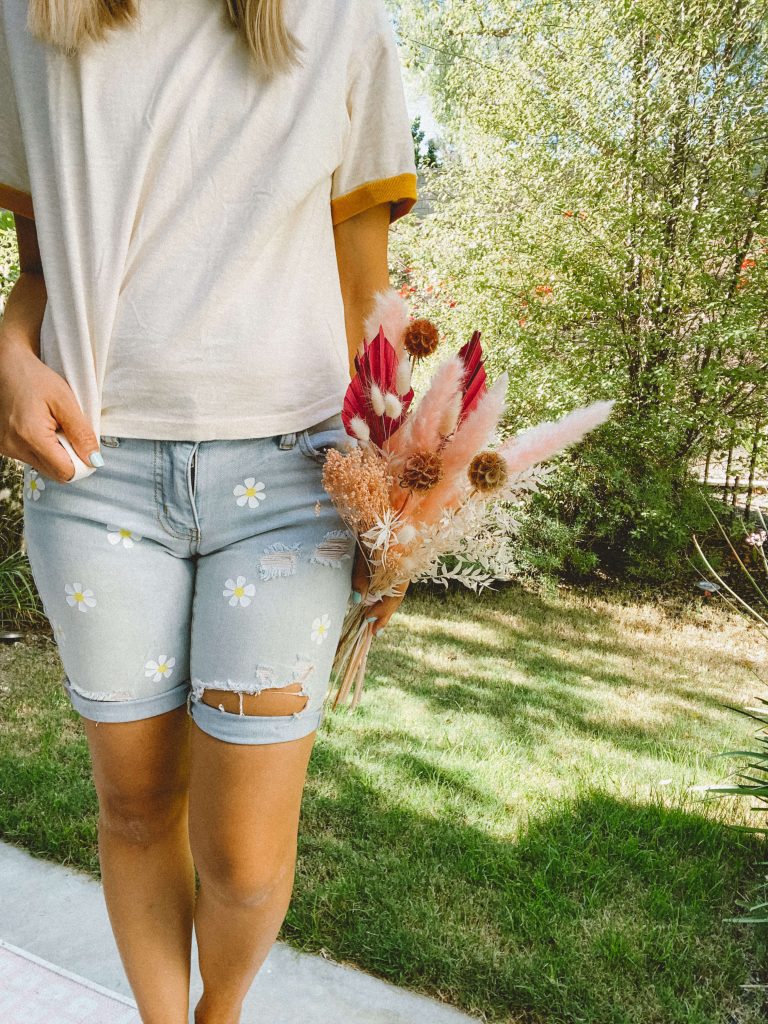 I don't know about you, but it is still hot and sunny where we live and I am in need of more shorts. Naturally, we all think…"Let's go shopping!"
But nowadays, I am shifting to instead say, "Can I shop in my own closet?" "Can I upcycle and rework the clothes I already have?"
95% of the time the answer is…
"YES! You can upcycle your existing closet!"
The best way to upcycle and rework my clothes is with Cricut!
Before: Old Jeans
I almost donated these jeans, because the truth is…I barely wore them! But then I thought…"Could I upcycle and rework these?"
Let's give these jeans a new life!
SUPPLIES:
-Old Jeans (you don't wear anymore!)
–Cricut Joy
–Cricut EasyPress Mini
–White Vinyl Iron-on
–Yellow Vinyl Iron-on
–Cricut Basic Tool Set
–Cricut Joy Standard Grip Mat
Design it!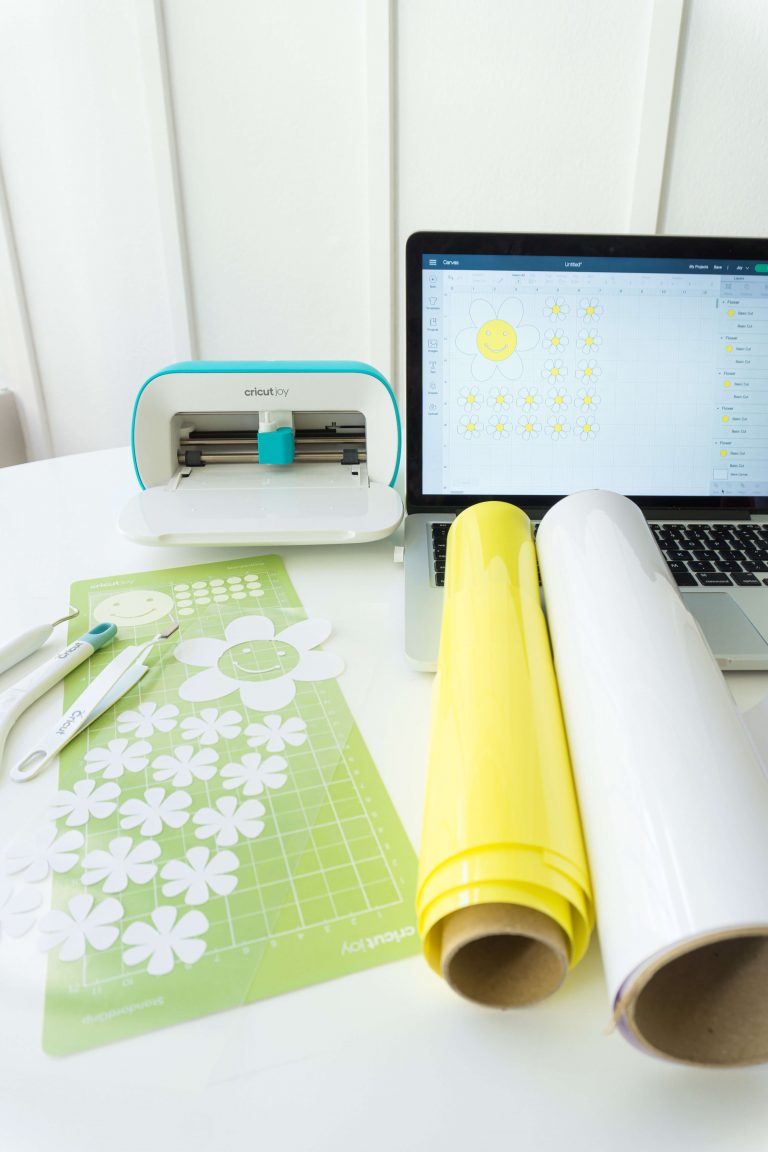 This is probably the best part, because you can design anything on Cricut's Design Space! When you purchase a Cricut Machine, you can easily download Design Space for all of your projects. It's super easy to use!
Weed it & Iron it on!
After I plugged in my design on Cricut Design Space and weeded out the design on the vinyl. I started the ironing process by placing the base of my daisies first (the white petals).
Note: Keep the clear sheet of the white petals. You will use these for the next step.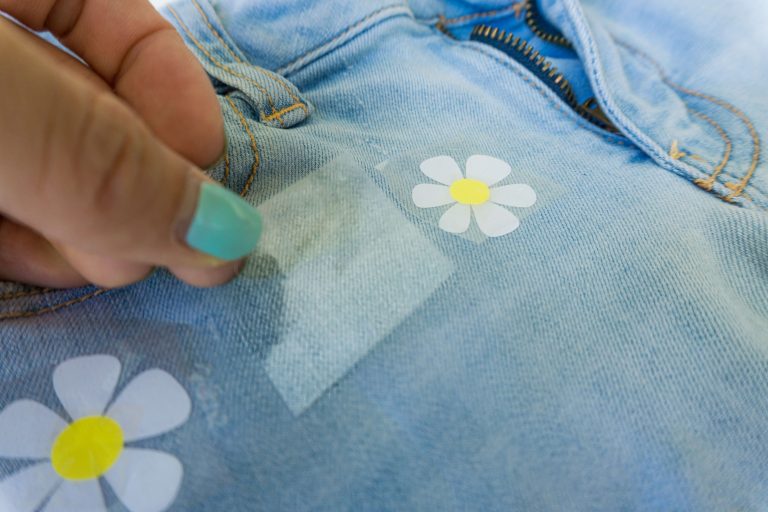 After I ironed-on the white petals of my daisies, I ironed-on the yellow vinyl in the middle. To do this, you will first place the yellow circles on top of the white petals. Then place the clear sheet from the previous step to make sure you don't ruin the white petals with the heat from the Cricut EasyPress Mini.
After: New Retro Daisy Shorts!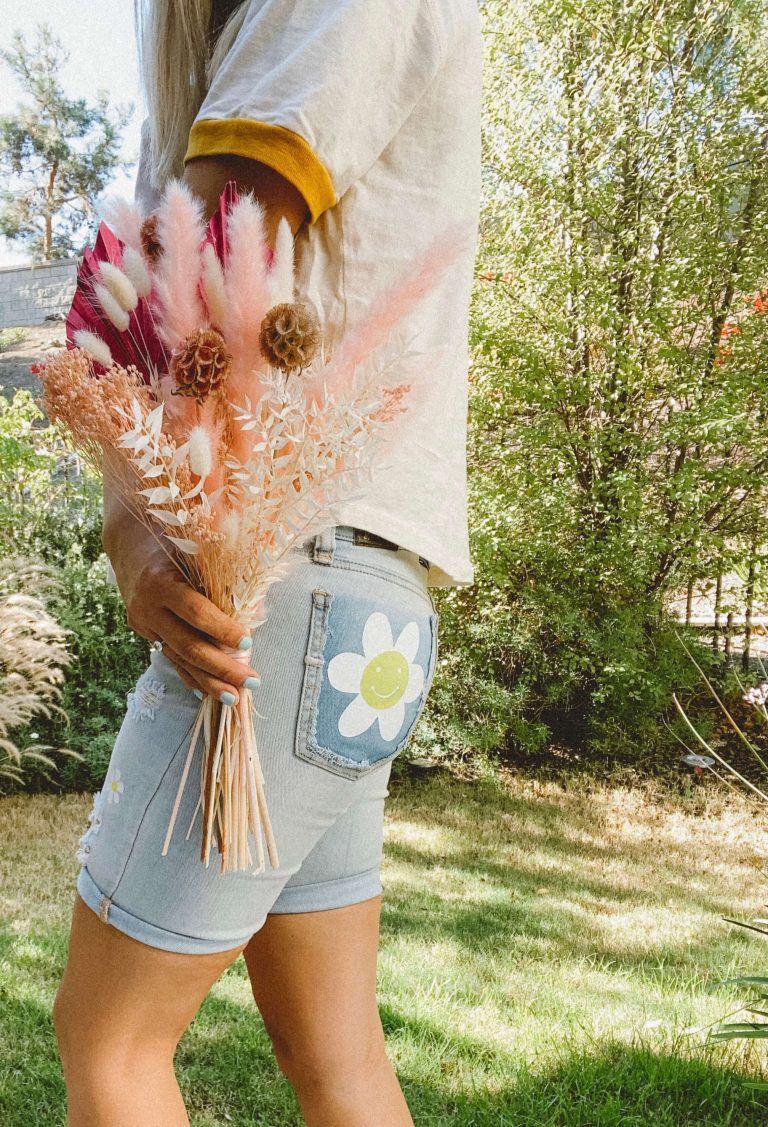 I am loving the upcycle and rework transformation because it is more of my personality and I did not have to buy new shorts!
Did you notice my little add on to the back? Yep, that was made with my Cricut too!
Have you every upcycled and/or reworked your closet?
Pin it
on Pinterest!
↡↡↡