In the heart of Orange County, is the coolest city ever, Costa Mesa!
Costa Mesa is only

10 minutes from the beach

20 minutes from Disneyland
Costa Mesa is the perfect place to stay in Orange County
for everyone and anyone!
I grew up only 10 minutes away from here, so I have many fond memories with my friends and family in Costa Mesa. ♡
OUR SPECIAL TRIP
Our Announcement!
On top of nostalgia, this trip was especially important to us.
This is where we surprised our 2 year old daughter, and announced that she will be a big sister in October 2019!
Yay, we are pregnant!
(scroll down to see more of our pregnancy announcement photos, and which iconic Costa Mesa location we took photos!!)
Ready to see more of this amazing city?!
Ready.. Set.. Let's go explore,
☼ Costa Mesa! ☼
THE CITY OF THE ARTS
showcasing art throughout the city! • •
Costa Mesa is known as City of the Arts.
They house the only theater to see broadway shows in Orange County at Segerstrom Center for the Arts, and also display public art throughout the city.
You can click here for Costa Mesa's Art Walk map, and see the various art sculptures and pieces around the city!
In other words, Costa Mesa has THE BEST Instagram spots!
Get ready to take out your cameras, because Costa Mesa is the place to create memories and take photos!
BEST PLACES TO SHOP
supporting small shops + splurging on luxury brands • •
it's called, "balance" right?
The LAB
2930 Bristol Street | Costa Mesa, CA 92626
thelab.com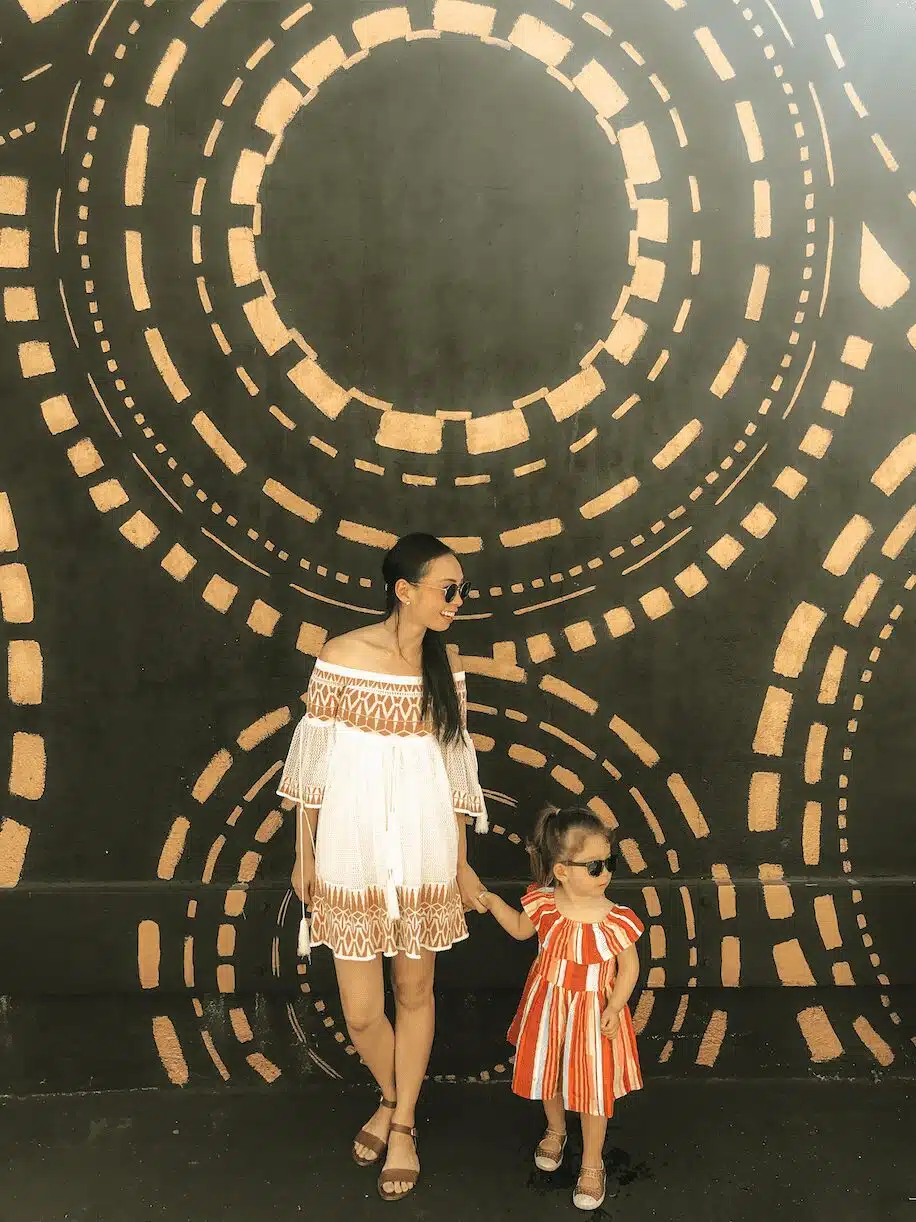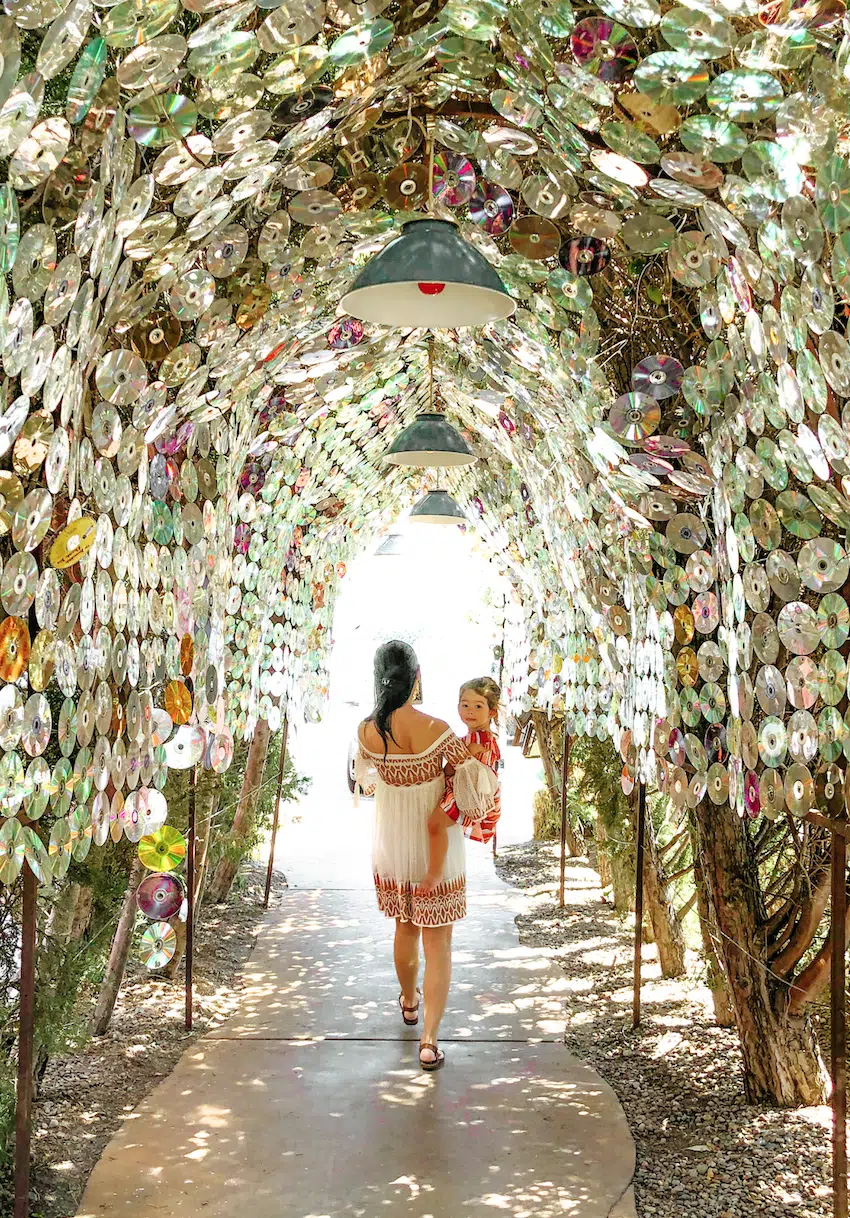 The LAB stands for "Little American Business." It strives to support small local businesses and combat retail monotony. Believe it or not, but this place was once a goggle factory!
Today it has a great mixture of retail, food, art installations, and more.
THIS is a total Instagram spot for photos!
The CAMP
2937 Bristol Street | Costa Mesa, CA 92626
thecampsite.com

The CAMP is a sister campus to the LAB, and is located right across the street from each other! It is the first eco-friendly retail plaza in the U.S.
It might sound odd, but The CAMP has the coolest parking lot!
Each parking spot has a cool saying.
Check out the parking spots on my Instagram Costa Mesa highlights!
ps: if you want yummy acai bowls + shaved ice, visit Milk + Honey.
South Coast Plaza
3333 Bristol Street | Costa Mesa, CA 92626
southcoastplaza.com

This is my favorite mall EVER!
I grew up going to South Coast Plaza all the time.
It is not your typical mall. It is your best mall that offers all the stores you need and have ever dreamed of.
It is known to be the indoor version of the famous Rodeo Drive.
It has luxury stores, such as, Louis Vuitton, Chanel, Dior, but it also has stores, like, Nordstroms, Gap, Banana Republic, Zara, and so much more.
It has something for everyone!
For kids, the carousel is a must.
Next to it they sell those irresistible Mickey balloons that kids will go ga-ga over. The Disney Store, Lego Store, Baby Gap, and other kid-friendly stores are right next to the carousel.
South Coast Plaza also has year-round events that are perfect for the family, such as the Southern California Spring Garden Show and Festival of Children.
SoCal Tip: the mall usually has special deals for Disneyland tickets!
Ask the concierge at South Coast Plaza.
Access Lounge
• • the "hidden" VIP Lounge • •

We had the special privilege to go experience a "secret lounge" inside of South Coast Plaza that most locals have no idea about!
It is called, Access Lounge.
They serve you drinks from apple juice boxes for the kids to lattes to wine. They also serve snacks of your liking!
There are private lounge rooms, where you can sit and relax after a long day of shopping. Tenley obviously picked the room with the TV and asked for goldfish, pretzels, and apple juice. (Oh, toddlers!)
Also, did you notice in the photo above that she totally made herself feel like home and took off her shoes right away? LOL
Not going to lie, I didn't think much of this place beforehand, but when I got the chance to just sit, relax, and unwind after walking around the mall…IT FELT SO GOOD! It was such a great pick-me-up for everyone in the family.
To see more of the Access Lounge, check out my Instagram Costa Mesa highlights!
Now, to the important question…
HOW DO YOU GET ACCESS TO THE ACCESS LOUNGE?
You must have an American Express Platinum "black card" or be invited by South Coast Plaza. (You can safely guess that we received access from the latter
)
…now, every time I pass by the Access Lounge, I will be drooling to be back in there *sigh* It was a great experience!
CUTEST COFFEE SHOP
LOCAL COFFEE, ALWAYS • •
Coffee Dose
116 E. 18th Street | Costa Mesa, CA 92627coffeedosecm.com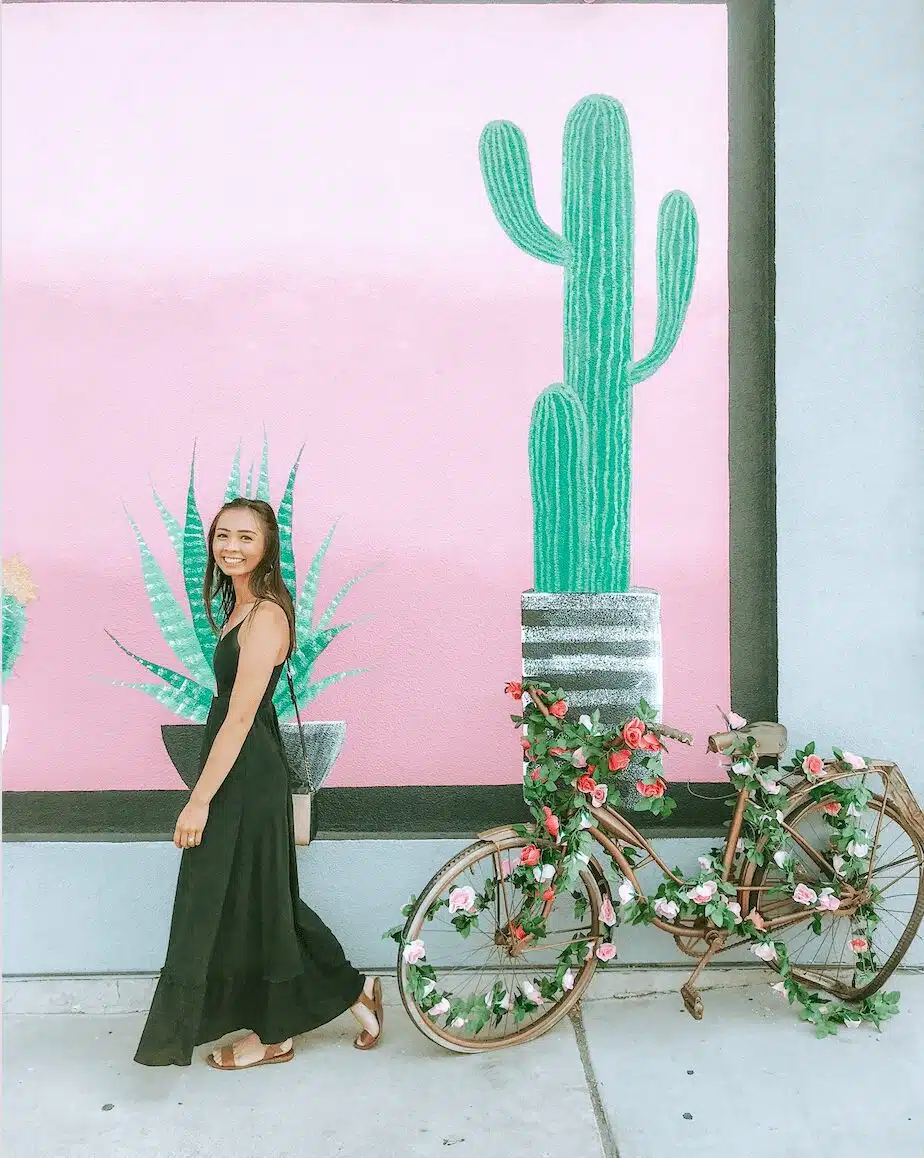 I will be honest, Costa Mesa houses A LOT of amazing local coffee shops. Growing up, I would drive to Costa Mesa, just for coffee.
I chose to showcase one of my recent favorites, Coffee Dose, because:
1. It's super cute.! Totally Instagram worthy.
2. They make therapeutic lattes (see above)
3. Their coffee cups make me laugh.
LET'S BRUNCH!
Rooster Cafe
750 St Clair St | Costa Mesa, CA 92626
eatatrooster.com

Hands down, this is my favorite place to get breakfast/brunch, ever since I was I got my drivers license in high school. (aka, you could find High School Tiffanie here all the time.)
Be prepared to wait for a table.
It is a small little cafe, and the food is so good that everyone wants to eat here! Since it is a small cafe, it might not be the best with kids, but they do offer some high chairs.
My favorite items are their Chilaquiles and Mexican Hot Chocolate!
Playa Mesa
28 E 17th St | Costa Mesa, CA 92627
www.playamesa.com

I am obsessed with the design of Playa Mesa.
I am more obsessed with are the owners' vision for Playa Mesa. When opening their restaurant, the owners said they wanted it to be a place where "Kids can eat while mom and dad drink killer margaritas."
Now, that is something parents can nod yes to! 🙌
They have such an extensive kids menu, that doesn't just have the typical "mac and cheese" and "pizza." It includes way more than that! Tenley got their delicious pancakes that was topped with cinnamon vanilla butter and carne asada quesadilla.
Brett had their chilaquiles and I had their huevos rancheros. It was delicious!
PS: they give the kids an Etch-A-Sketch while they wait for their food! How neat right?
DINNER + A SHOW
the best combination! • •
Leatherby's Cafe Rouge
615 Town Center Dr | Costa Mesa, CA 92626
patinagroup.com

Previous
Next
We are officially making this a tradition.
Whenever we plan on watching a show at Segerstrom Center for the Arts, we are coming back to Leatherby's Cafe Rouge!
It is the perfect place to eat and have the view of the theater and the arts plaza.
It is also so delicious!!! My husband and I still talk about the food till this day. From the appetizers to desserts, everything was spot on.
I also love that they always have a featured pre-fix meal that relates to the current show that is at the theater. In our case, it was a pre-fix meal that was Aladdin related! How neat, right?
Leatherby's Cafe Rouge, we will be back!
MODERN "SECRET" GARDEN
hidden between business buildings • •
Noguchi Garden
611 Anton Blvd | Costa Mesa, CA 92626

I am calling this a secret garden, because it is truly hidden in the middle of tall business buildings!
Most people find this place because their photographer recommended taking photos there. Or in my case, my parents actually used to work in one of the tall buildings.
We chose to shoot our pregnancy announcement photos here because it holds a special place in my heart and it is so unique.
It is not your typical garden. Noguchi Garden is designed with natural plants and materials to highlight California's natural resources. It's minimalistic, but beautiful.
BEST PLACE TO STAY
Location! Location! Location! • •
Westin South Coast Plaza
686 Anton Blvd | Costa Mesa, CA 92626
marriott.com/hotels

The Westin South Coast Plaza has the best location!
It is walking distance to all the places you need to see in Costa Mesa.
There is a bridge right outside of the hotel that connects to the best mall, South Coast Plaza.
It is right next to the only theater in OC where you can watch broadway shows, Segerstrom Center for the Arts.
And it is walking distance to Costa Mesa's Art Walk of public art displays!
We loved all the amenities here, especially the gym! It overlooked the pool and city views.
To see more of our hotel experience, check out my Instagram Costa Mesa highlights!
NOTE: Costa Mesa offers the ART shuttle, where it picks you up from your hotel in Costa Mesa and takes you directly to the Disneyland, and brings you back to your hotel. It is only $5.50 for adults and $2 for children.
☼ Costa Mesa! ☼
we will see you again soon,
luckily, you are only an hour away from LA!
If you have any questions about Costa Mesa or the surrounding area, comment below! Orange County is home, and I always want people to fall in love with it the same way I did growing up! ♡
↡ ↡ PIN IT on PINTEREST ↡ ↡