I love playhouses!
Playhouses inspire creativity and imagination.
My toddler also loves that it is her own. She has her own space where she can pretend play and it is so beautiful to see!
There are hundreds of playhouses online (which can get overwhelming). But ultimately, we chose this playhouse.
It is made of 100% solid compostable wood! Which is perfect, because we are not fans of plastic playhouses.

This playhouse is made by Be Mindful Engineering, which is a great company with a mission to develop high quality and sustainable products for children at a reasonable price.
This playhouse is also great because it is totally customizable!
Here are some easy ideas to make your playhouse awesome!
↡ ↡ ↡
Trust me, it will be an amazing surprise for your kids! THEY (and you) WILL LOVE THEIR UPGRADED PLAYHOUSE!!
5 Easy Playhouse Hacks!
1) Add some shade!
Curtains, Awning, Umbrella, etc.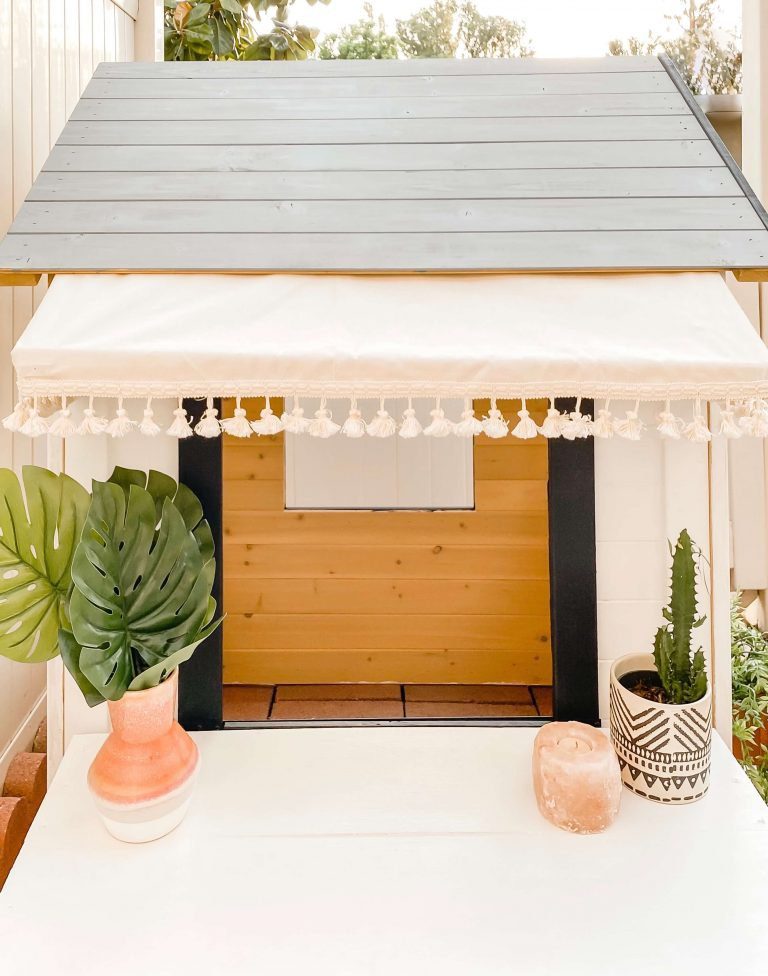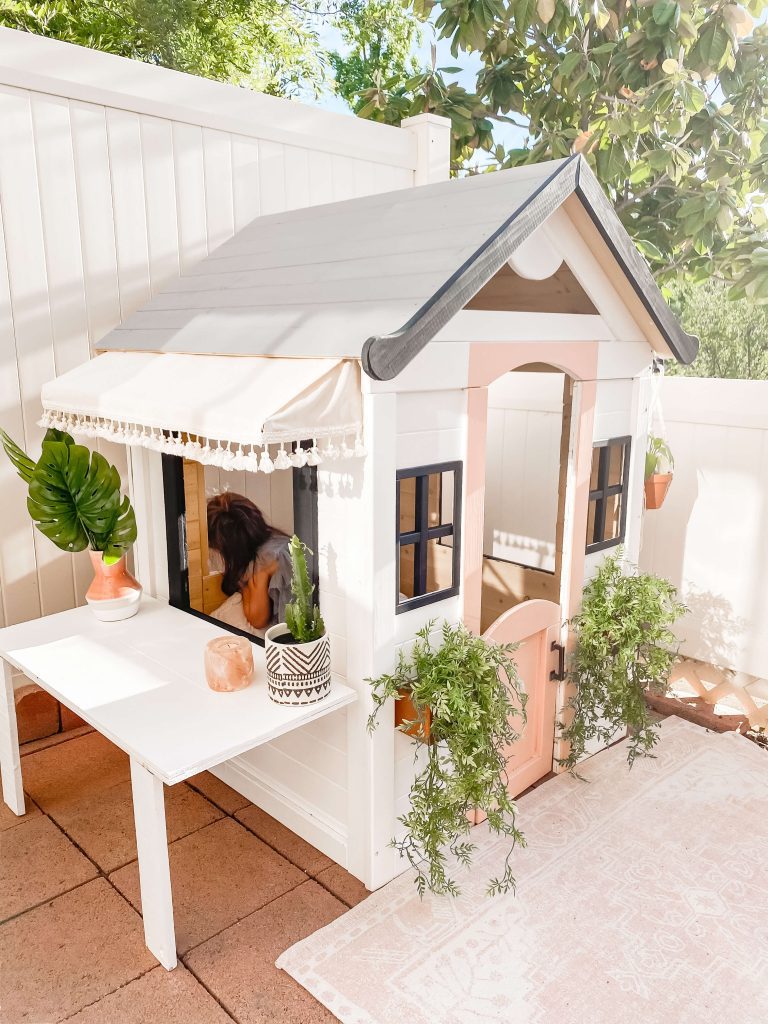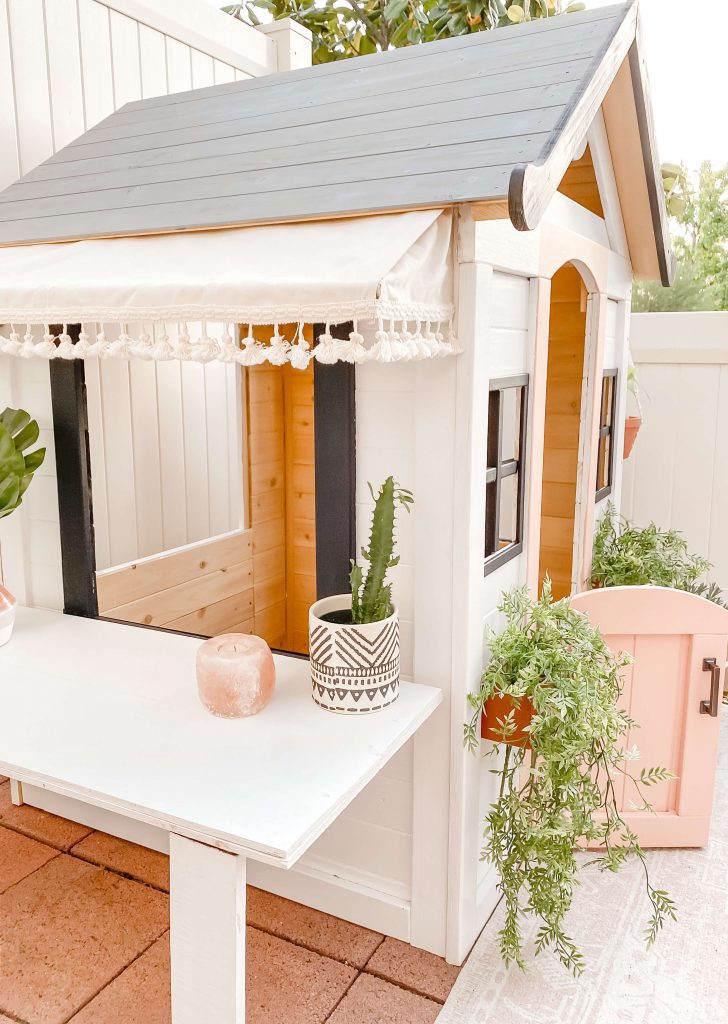 Guess what?!
This awning
only cost me $7
to make!
↡ ↡ more details on the items I used! ↡ ↡
Tassel Ribbon | $2 | link
Unfortunately, my ribbon is out of stock (But I'm hoping they restock it! Feel free to check the link to see if it is restocked.)
Here are other great ribbons that would make adorable awnings and even curtains, or umbrellas!
Ivory Lace | Pom Pom Trim | Natural Tassel
Wood | $1.50 | link
I used this 1 wood piece and used my saw to cut it to pieces that I needed to make a L-shape.
BUT this shelf bracket would make it a lot easier! I decided to use wood because I just had extra laying around.
If you use this bracket, make sure to purchase 2 (one on each end of the awning).
Then flip the bracket around (have it be the opposite of what it is meant to do for shelves), and all you would have to do is attach a long wooden dowel or long wooden piece that would connect the two ends of the awning/brackets.
Wooden Dowel | $1.39 | link
You can use this or even a long stick. The purpose of this is to help create the shape of your awning.
This will connect both ends of your awning.
Fabric | $2 | link
I used this unbleached muslin fabric, but you can feel free to use any fabric you'd like!
2) Add a Table!
I added a collapsible one that is attached to the playhouse.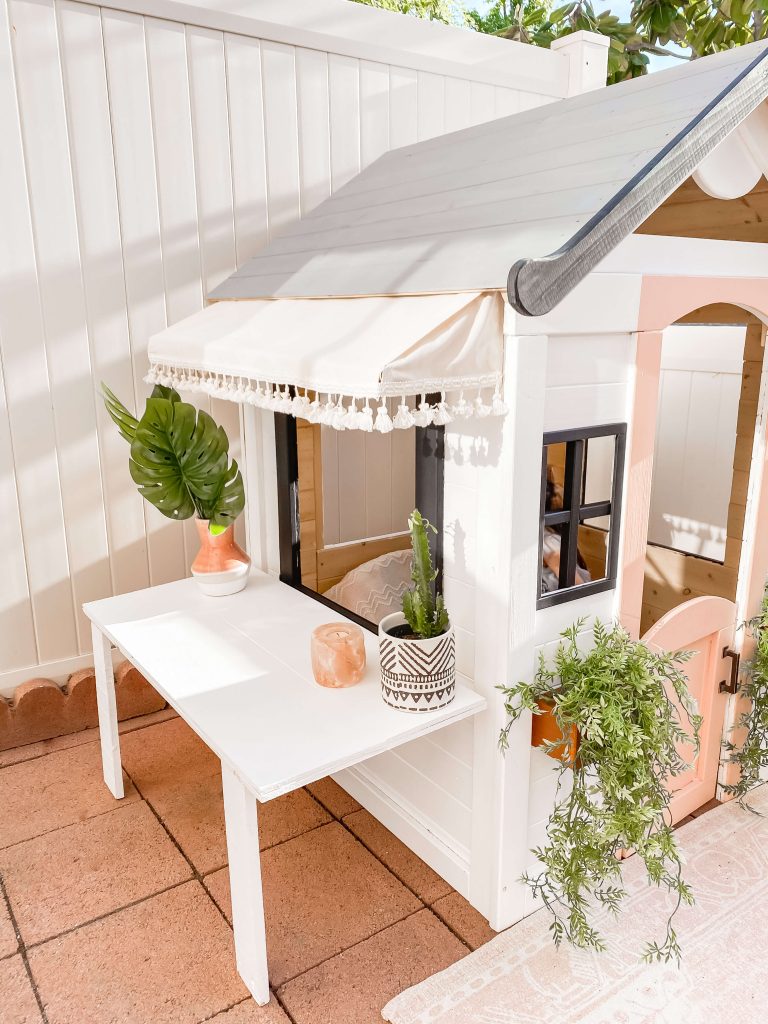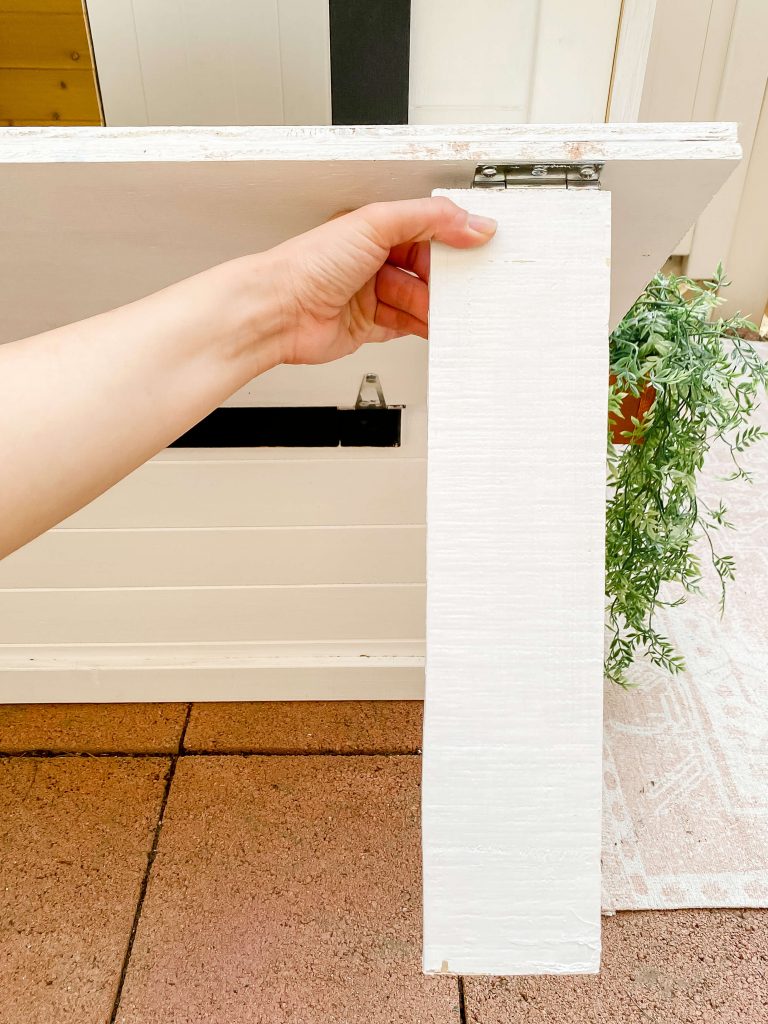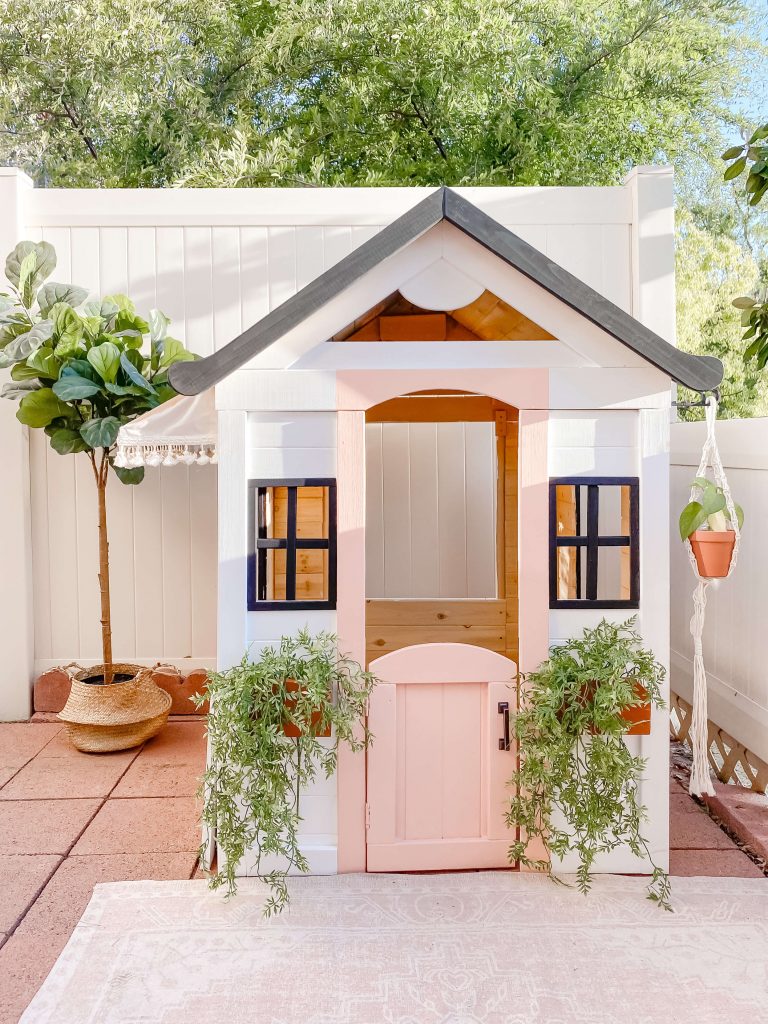 ↟ ↟ Here is how the house looks when the table is collapsed. ↟ ↟
I wanted this playhouse to be more functional. I am all about giving things multiple purposes!
I thought a table would be great for Tenley to use if she decides she wants to color or pretend she works at a cafe or eat her lunch outside, etc.
I also decided to make the table collapsible to save space.
Here are the hinges ($4) I used!
I purchased 4 of them. 2 of them attached the table top to the playhouse and the other 2 were connecting the table top and its legs.
3) Upgrade the Door!
Ding Dong! Who's There?
I love this door, because it was all my daughter's choosing! She chose this beautiful pink color (Behr Paint: Pink Abalone), and the door knob, which is actually a cabinet handle.
We only used a sample size of Pink Abalone paint ($8) and purchased the "door knob" at a local hardware store for $3.
4) Add Plants!
Pops of green is always a good idea.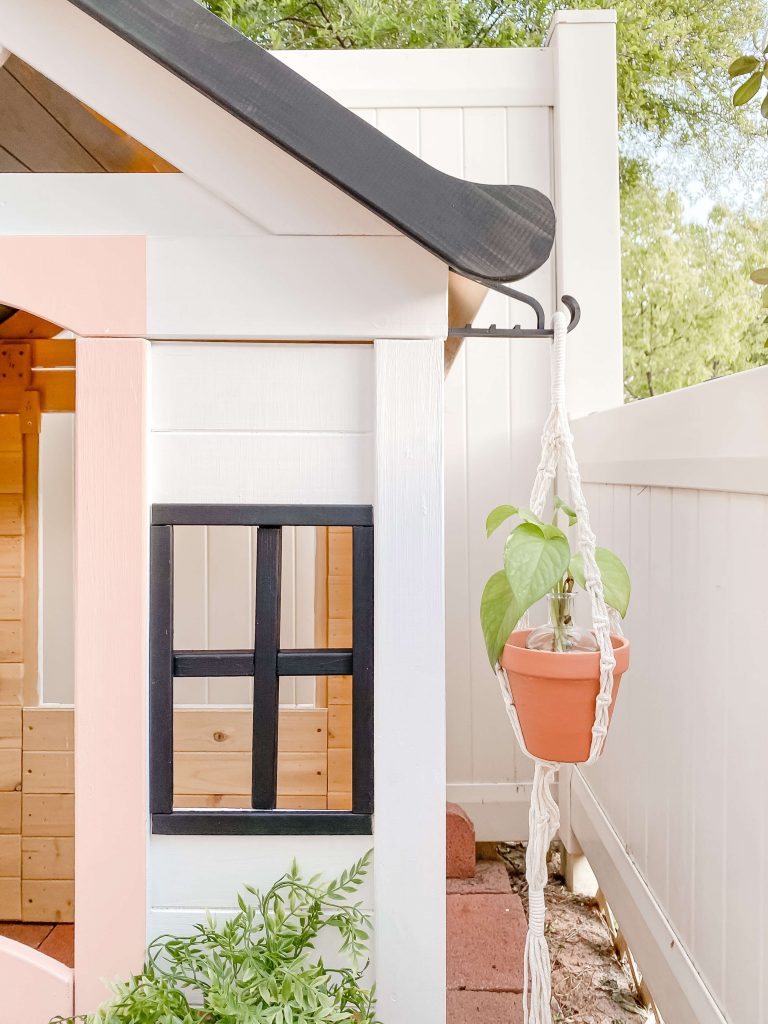 The majority of my daughter's plants are fake. Pretty much, because I know she will either ignore them for weeks or will over water them LOL.
Truth be told, right?
But on the flip side, I do love adding plants because my daughter loves to pretend to garden!
One of my favorite additions was a macrame plant hanger on the side of her house. You can purchase this pack of 3 Macrame Plant Hangers for only $15!
I purchased all of her faux plants from Michael's! I have linked and added photos of 2 of her faux plants that were under $10 each!

(ps: be sure to always check Michael's website/app for a coupon or promo code!)
Also, this is the brown paint color I used for the 2 planter boxes.
5) Upgrade the Windows!
Add window trims, curtains, etc!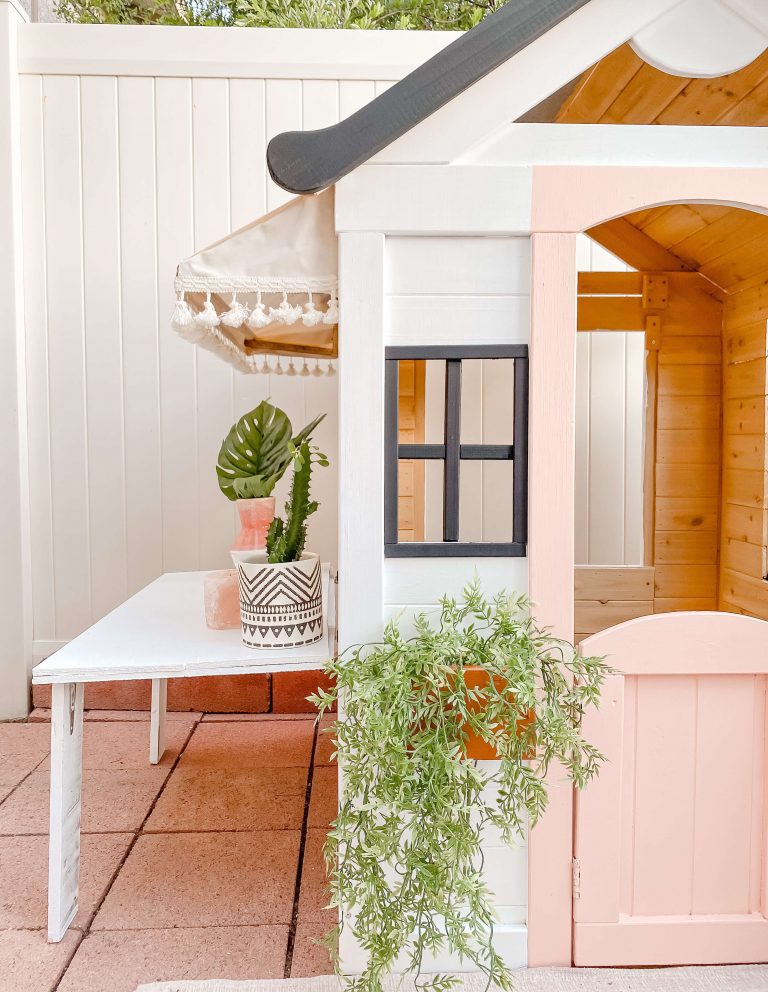 This was something so simple, yet made an impact in this playhouse makeover. I simply purchased this piece of wood for about $1 then I painted it black and made window trims from it.
Have fun with your windows!
You can add curtains, different window trims (like a decorative border, etc).
↟ ↟ ↟
I hope you enjoyed our playhouse upgrades!
This was a special project for us, because this playhouse makeover was the first DIY project with my toddler!
I truly loved seeing her creative side come out and loved seeing how proud she was when she was able to choose the additions to her house. She even loved she helping me paint the whole house!
Which one was your favorite addition in the playhouse makeover?
Feel free to contact me if you have any questions! I would love to help!
@tiffanie.anne
[email protected]
PIN IT on PINTEREST
↡ ↡ ↡ ↡