"The cold never bothered me anywayyyyyy!" Anyone else have Frozen fanatics in your home? More importantly, any parents reading this who would love a nice little break while your little ones play a fun frozen sensory bin?
If you answered, "Yes!!!" to both of these questions, I have the perfect activity for the kids with very little prep time!
Disney Frozen Sensory Bin
Time to Rescue the Characters!
It's been getting really warm here in Southern California, and I wanted to encourage my toddler to spend some time outside to get some fresh air and soak up the sun! So how do I do this?!
Not sure if your little ones are the same, but my 3.5 year old daughter will do anything as long as you make it a game! So I surprised her and said…
"Ah, Anna, Elsa, Kristoff, Olaf, Sven…and everybody is stuck in the ice!
Tenley, do you want to be a superhero and save them?!"
She confidently responded, "I am coming to the rescue!!!!" She runs outside and plays, while I soak up the sun right next to her. Parents, I got to sit back and enjoyed my coffee in peace for about 30-45 minutes!
Another awesome thing about this frozen sensory bin is that it has STEAM educational benefits as well!
I LOVE this Sensory Activity because…
It takes less than 3 minutes to make!
You can use things you already own

! (it does not have to be Disney's Frozen characters.)

It entertains AND teaches my toddler

for a good 45 minutes!

It is a perfect outdoor AND indoor

activity!

THIS is a win-win

for both kids and parents!
Benefits of Sensory Bins
Sensory Bins are the best, because they are so simple, but provide lots of benefits for kids. Typically, a sensory bin is a big container (a big plastic storage bin is commonly used) and it is filled with materials and objects that stimulate the five senses. TASTE | HEARING | SIGHT | SMELL | TOUCH Sensory bins and sensory activities allow children to explore, discover, imagine, create, and learn while engaging their senses.
How to Make Disney Frozen Sensory Bin!
Materials
Sensory Bin Fillers (These are a family favorite!)
Fun Examples: shaving cream, pom poms, water beads, beads, dry pasta, rice, sand, etc. I tend to buy sensory bin fillers on Amazon and keep them on the side for when we create new sensory bins!
Reuse Your Plastic Containers to freeze water (I reused our plastic food containers, like our parmesan container. Just make sure to wash them beforehand!)

OPTIONAL: Blue Paint
I used washable blue paint and stirred in the water before freezing them, to give my sensory bin that blue icy Disney Frozen theme.
OPTIONAL: Ice Cube Tray (Silicone Ice Trays, for the win!)
I thought it was fun to add blue ice in this Frozen Sensory Bin. I filled up the Ice Cube Tray and added washable blue paint then popped it in the freezer!
STEP ONE: Collect + Gather!
Collect your kid's Frozen toys! Or you can surprise them with this awesome Frozen set: [click here for Amazon link]
TIP: Gather their toys when they are napping or sleeping at night! This minimizes your time to clean up and just dump their toys in water 😉
STEP TWO: Time to Freeze!
Place the toys in your plastic containers and fill them up with water. Once all the toys are in the water-filled containers, place them in the freezer.
OPTIONAL: if you'd like, you can mix in the blue washable paint in the water and stir it till it is well-mixed, then add the toys in.
STEP THREE: Pop The Ice Blocks Out!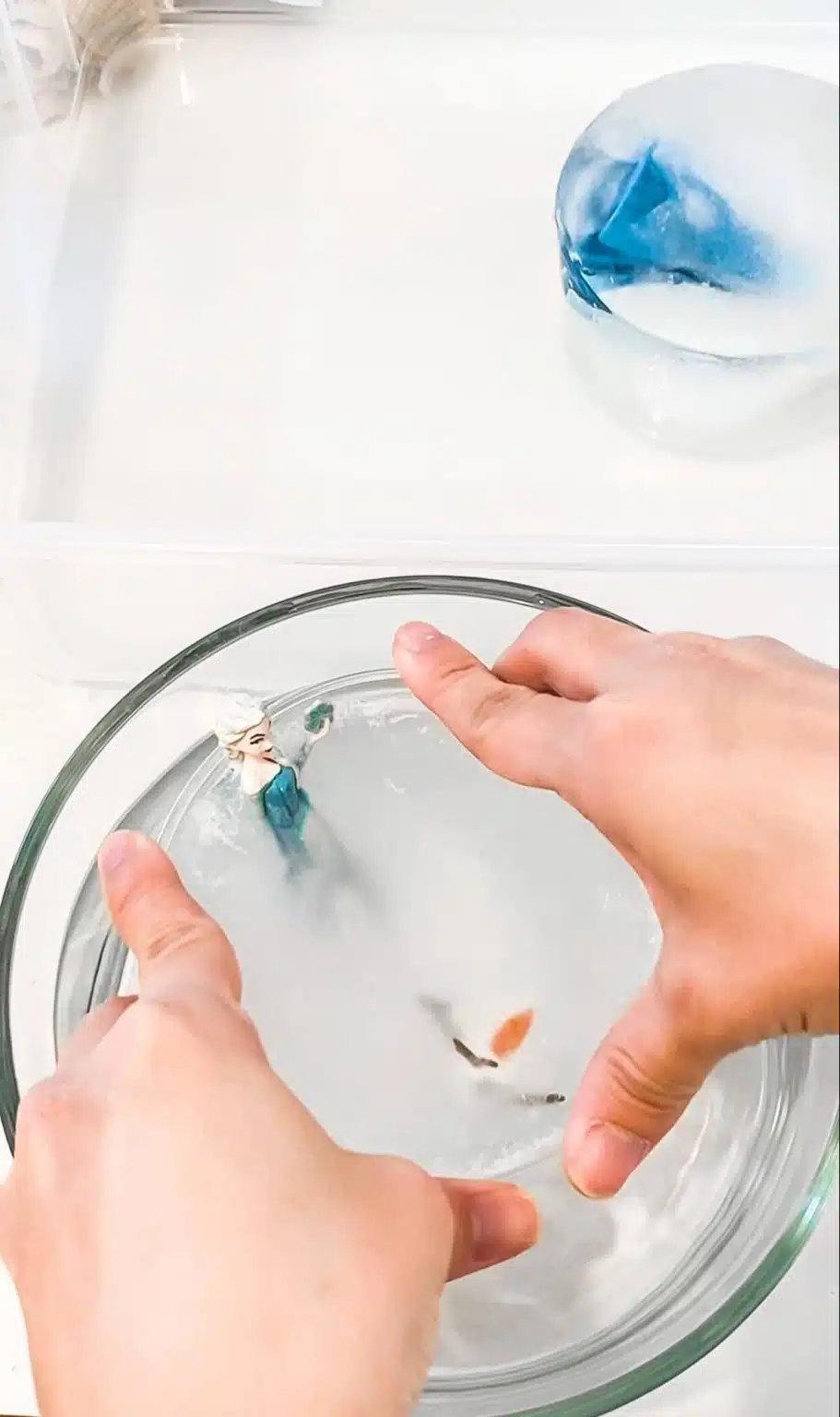 To help pop the ice blocks out quickly! Take a larger bowl and fill it up with warm/hot water, but be careful, you do not need to add too much water. Just enough to cover about 15% of the bottom of your frozen iced plastic containers.
STEP FOUR: Build Your Sensory Bin!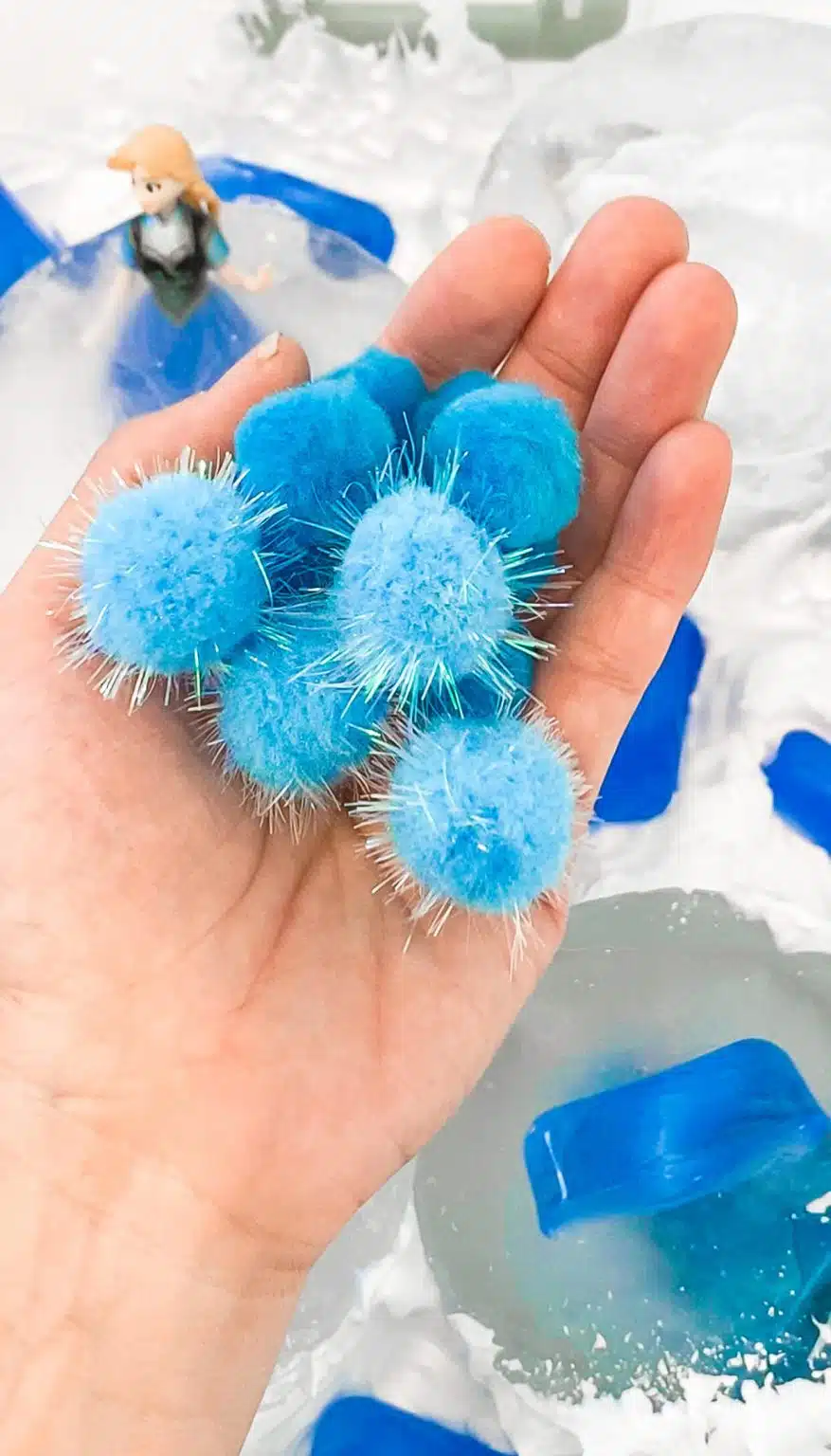 Place your frozen ice blocks to your liking and add all the sensory fillers. TIP: add different textures for more sensory stimulation for the kiddos!
STEP FIVE: Have Fun!!!
Parents, sit back and enjoy watching your kids spend 30-45 minutes doing this! It is fun to see what tools and methods our kids use to try and rescue these Disney Frozen characters!
↡ ↡ PIN IT on PINTEREST ↡ ↡
Hi there! As a mom, my family inspires me to make the world a better place. The best way I know how is to simplify sustainable living for everyone. I do this by sharing eco-friendly swaps (eco swaps), upcycled crafts and DIYs with scrap wood, scrap vinyl, and even, second-hand furniture from Facebook Marketplace!
Transforming scraps and leftovers into something new is my kind of thing!
Sustainable living can be simple. Let me show you my favorite sustainable tips and hacks that help you, your family, and the environment.