2020 has been very weird and very different for everyone.
As a parent, it is hard to talk to your kids about these changes. It has been hard for my 4 year old to understand that school is no longer in-person. It is hard for her to understand why our playdates have become minimal to zero.
Parents, I feel you on this.
It is a tough year to navigate, but we got this!
Some days, I lose it. Some days, I am calm and patient. No matter what, we keep going and we continue to have new days.
New days with our kids and family.
♡ ♡ ♡
This Thanksgiving, we wanted to do something different, since it will be a very different Thanksgiving than we are used to.
We will not have a big family gathering like we normally do. So, our family wanted to add a new Thanksgiving tradition!
New Tradition:
Thankful for our Friends!
We wanted to show our gratitude to our friends this Thanksgiving.
We miss them so much this year!
We boxed fun (and yummy) DIY craft boxes for our neighborhood friends, so they can have a family activity that they can all do together!
WE HAD SO MUCH FUN DELIVERING THESE!!!
We know that most of us will not be having our typical large Thanksgiving gatherings, so we wanted to still spark some joy during this crazy and weird year of 2020 with a festive family friendly Thanksgiving craft!
What's in the box?!
Candy Corn
(This one is Gluten Free, Fat Free, and Dairy Free)
Oreos
(We used Trader Joe's version, but it is not available online. Oreo Double Stuffed would work the best!!!)
Eye Candies
(We use these all the time for fun decorative desserts and even meals! Thinks funny faced sandwiches!)
Peanut Butter or Almond Butter
(this was used to attach the eye candies to the oreos!)
Lollipop Sticks
(You can use these for cake pops and other craft projects too!)
Optional: Ribbon
(for decorative purposes.)
Free Printable:
Thankful Friends Tags!
How to Make the Turkey Pops!
First, start by adding the candy corns on the top.
Position your candy corn upside down and place them in the cream, in the middle of the black cookies. (Now you can see why the double stuffed Oreos would work best!)
We personally added 6 candy corns on the top of the Turkey.
Then cut your candy corn with a butter knife to create a smaller triangle for the turkey's nose.
We used peanut butter to help attach the nose and eye candies to the Oreo cookies, but feel free to use any other alternatives you may have at home, such as almond butter, any other nut butters or even, cake icing!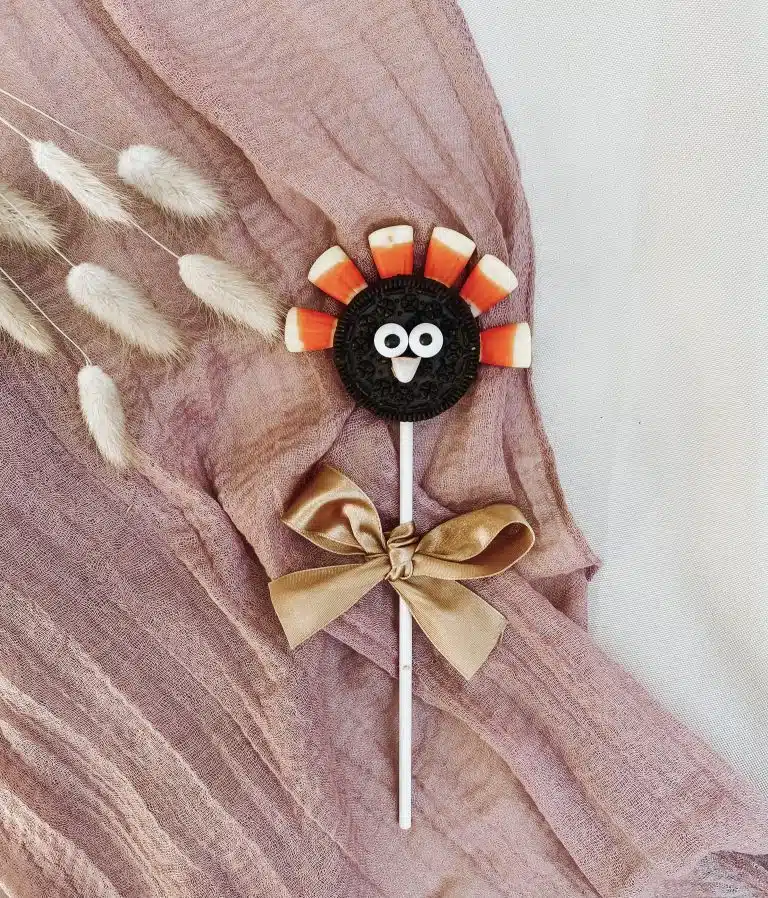 Once your turkey is ready, simply add your lollipop stick! (but don't push too far up where it hits the candy corn.)
TA-DA!!!
YUMMY. EASY. DIY.
FOR THE WHOLE FAMILY!
From our family to yours,
we truly hope you have a wonderful Thanksgiving this year. We hope that this easy Turkey DIY can be a fun activity for your whole family!
Let me know if you have any questions!
DM me at @tiffanie.anne or email me at [email protected].
↡ ↡ PIN IT on PINTEREST ↡ ↡