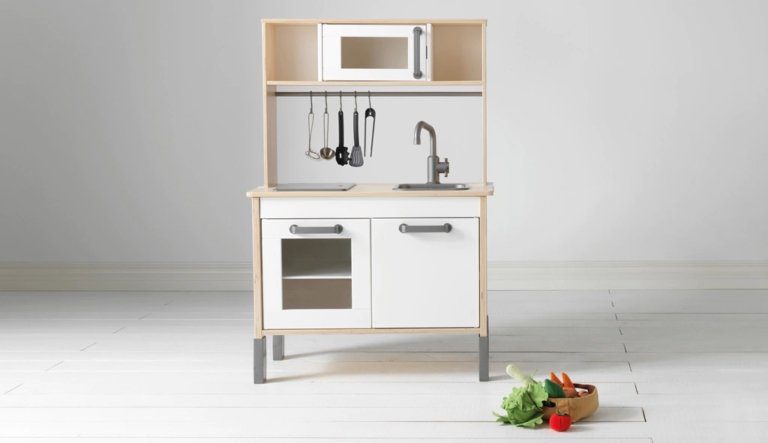 Yes, we are back at it! We have "remodeled" our daughter's Ikea Duktig Play Kitchen once again!
Or many Ikea fans call it… 
We Ikea Hack(ed) it!
Who loves a good Ikea Hack?!
I sure do!
Click below to see our unique Ikea Duktig Kitchen transformation from a generic kitchen to a Malibu inspired cafe!
As you can see in our Ikea Duktig Play Kitchen hack, we transformed it differently than what you have probably seen. 
Instead of making it over as a play kitchen, 
we wanted this Ikea Play Kitchen to be more multifunctional and more interactive for our toddler!
So we created it to be both a kitchen and to-go booth! Think food truck or food stand.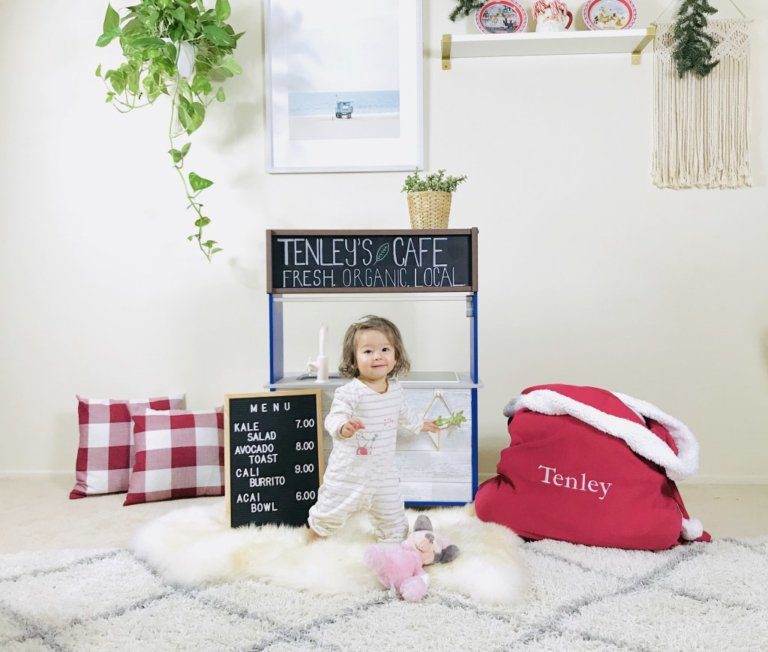 2 years, later, our daughter is now 3.5 years old with lots of opinions (sometimes…too many LOL)
She expressed that she wanted something new. Specifically, something pink!
The great thing about this project is that the
total makeover cost $23!
COST BREAKDOWN
$7 Wallpaper (Peel + Stick) | Amazon

When writing this post, the wallpaper is sold out (it might be different if you check it now), but in case it is sold out still, I have linked some great ones below that would be adorable for your makeover!

$14 Gold Spray Paint | Amazon
I love this spray paint because its works great with plastic AND it is both primer + paint in 1. It makes your project easier and have your makeover done quicker with less steps to do.
$2 Pink Paint | Home Depot Paint SECRET
This is my secret…every time I go to Home Depot, I always swing by their paint section and look at their clearance cart. Many people change their mind about the paint color they purchased and return it. Then Home Depot resells it for a very reasonable price. This is how I got this pink paint for only $2! I always stock colors that I could see myself using and store them away for future DIY projects.
Time to see our NEW TRANSFORMATION!!!
↡  ↡  ↡
Before
The Original Ikea Duktig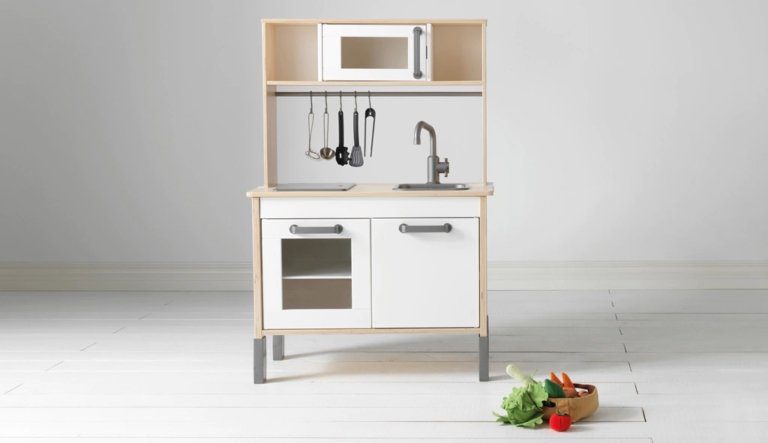 Makeover #1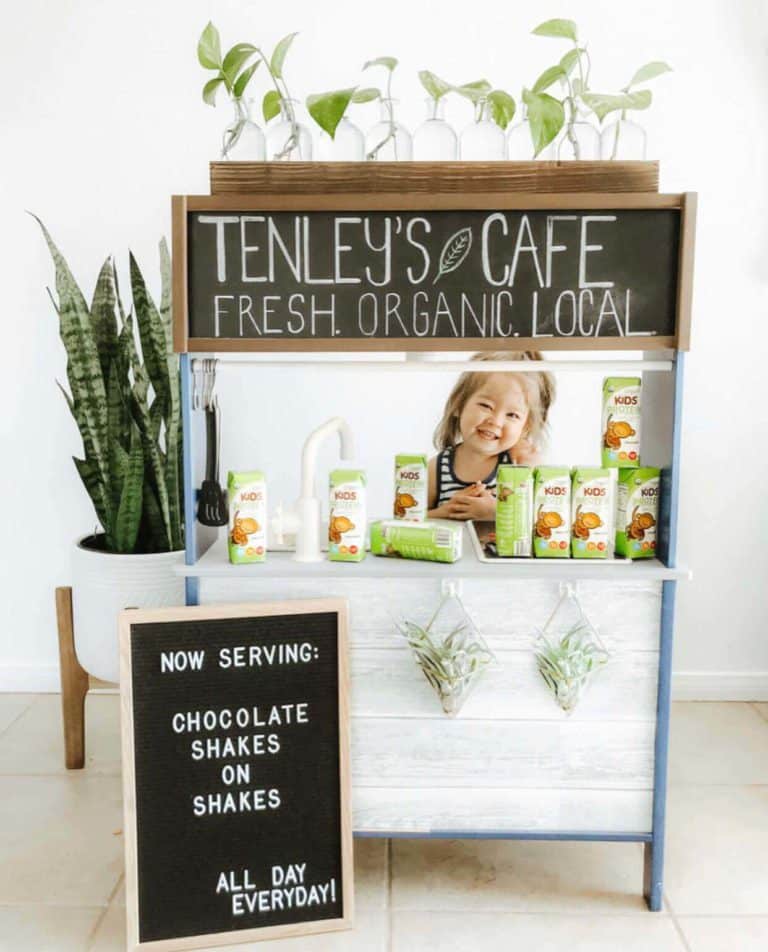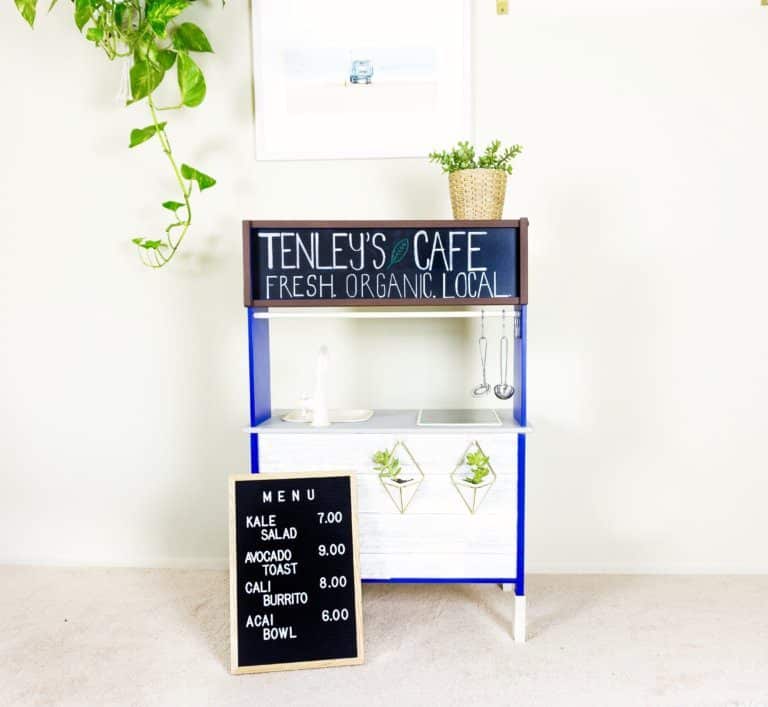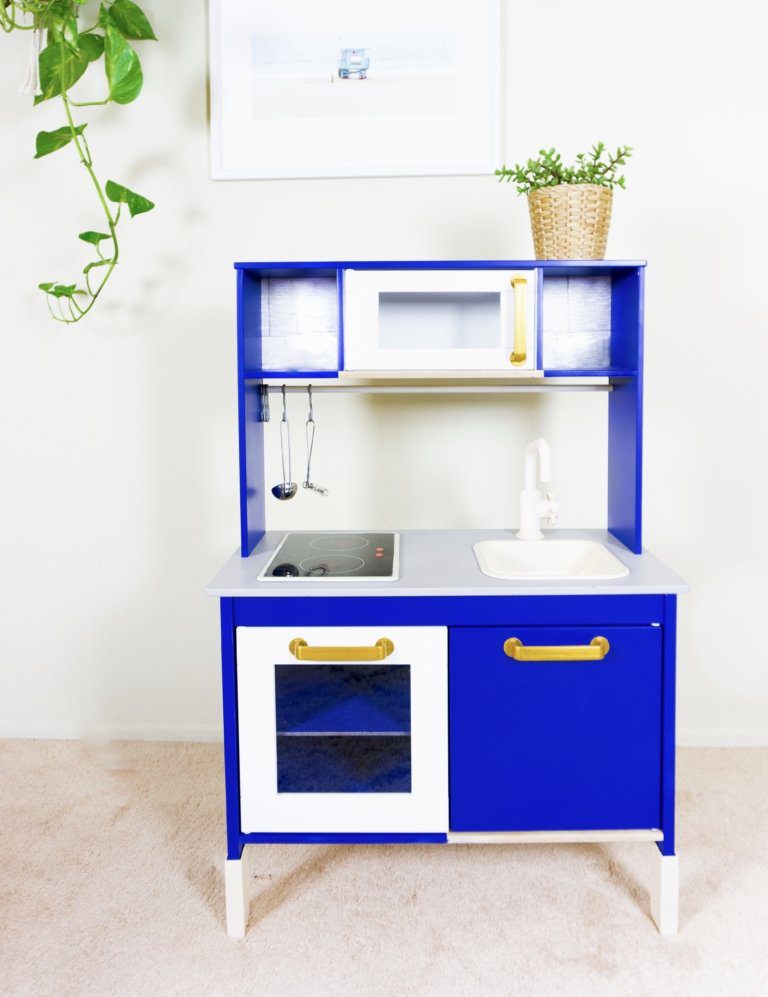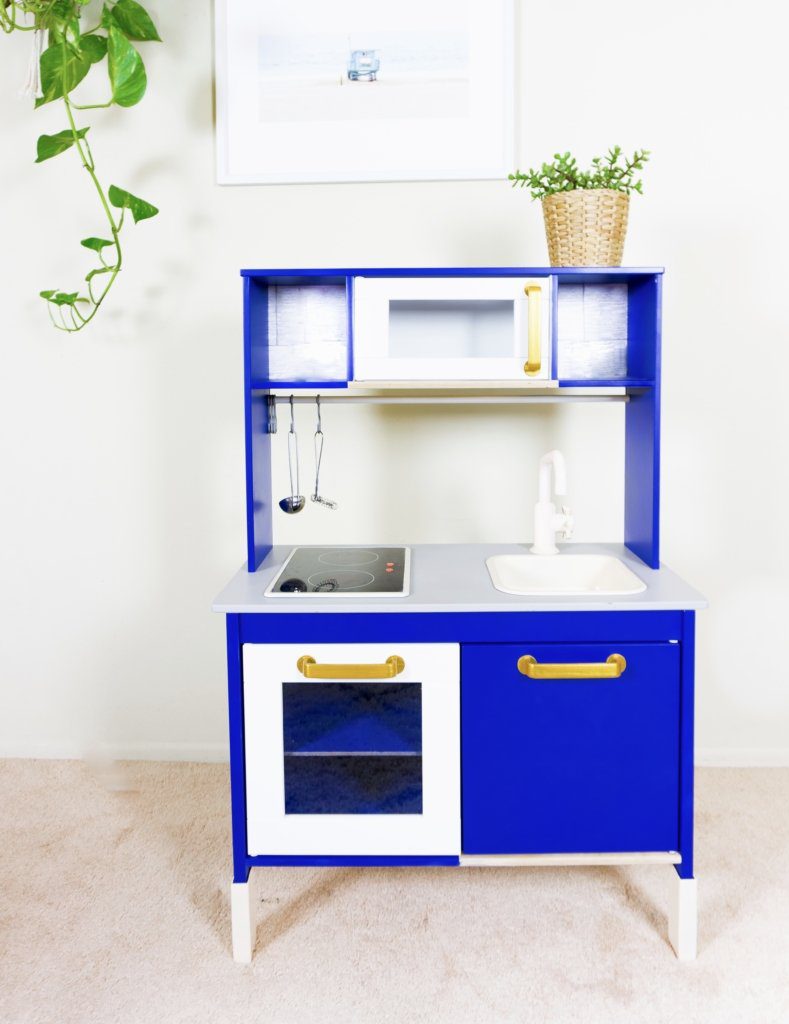 Makeover #2
Paris Cafe Inspired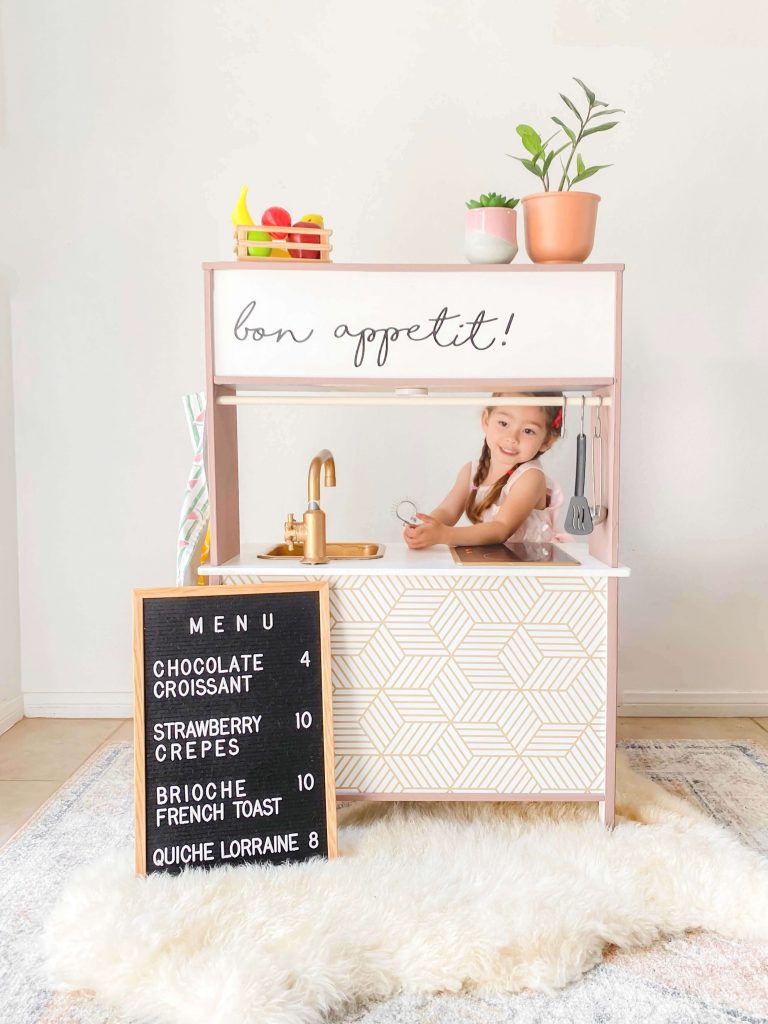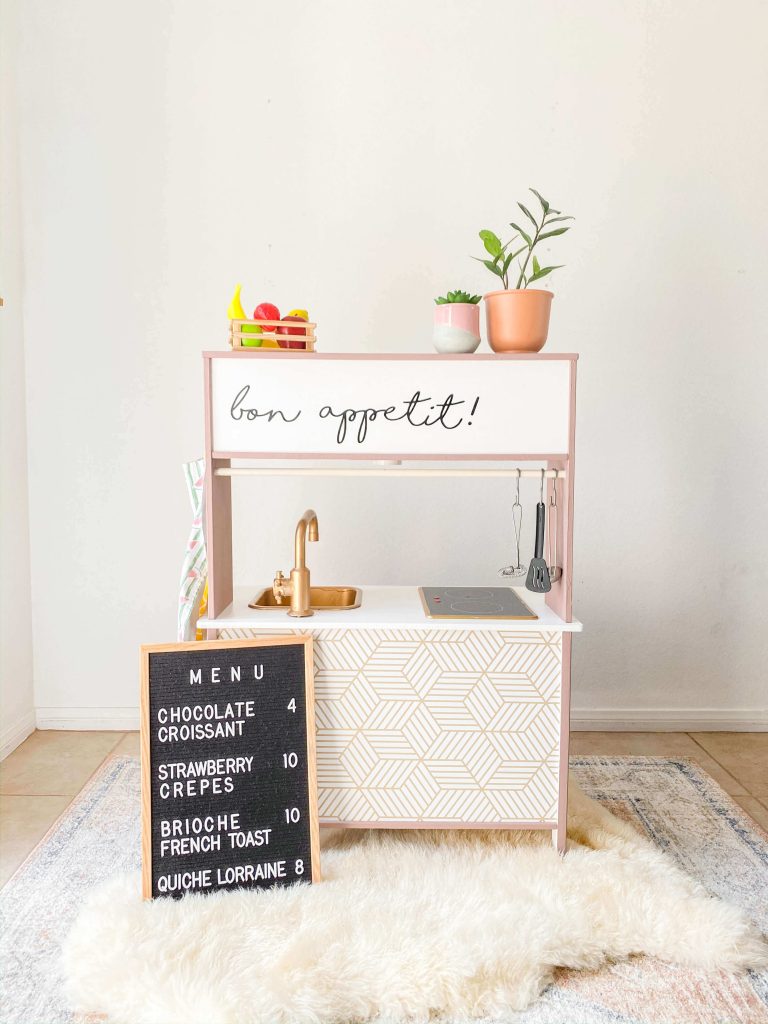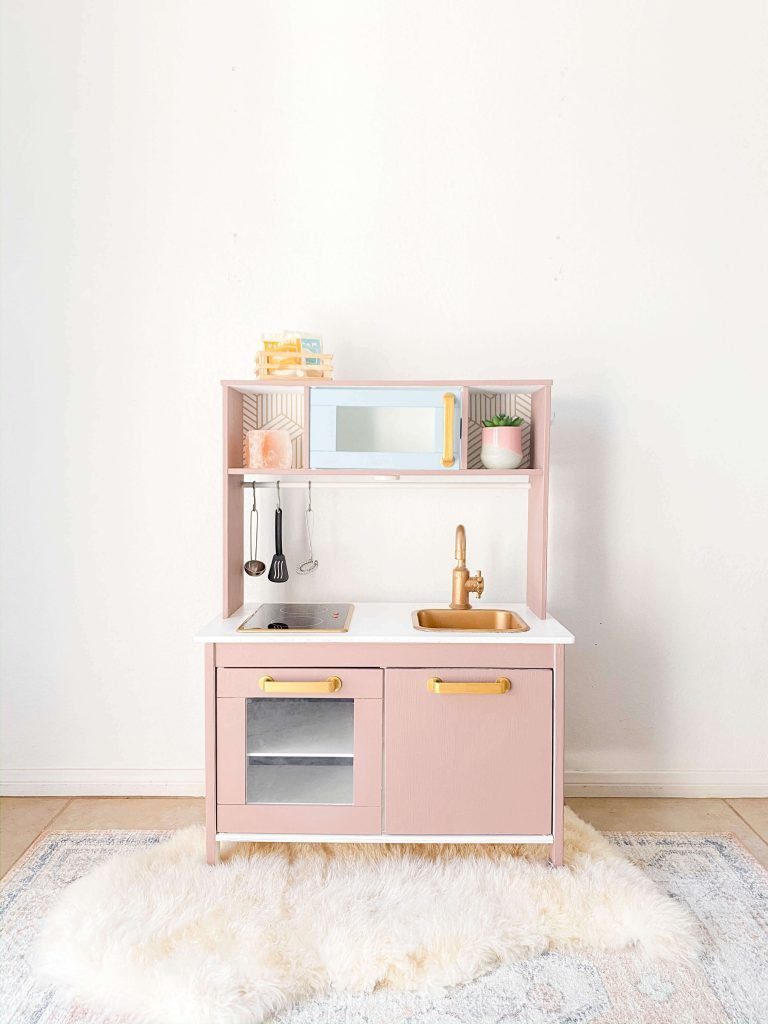 TIPS FOR MAKEOVER #2
I first painted the whole kitchen white, because the blue from the first makeover was really dark. I always have white paint handy, since I love doing lots of various DIY's.
I added 2 coats of white paint and then 1 coat of the pink paint.
The "sign" that says "Bon Appetit" was done from my Cricut, because I have the worst handwriting. I rely on my Cricut for all of my DIYs.
It's the best thing I have ever purchased!
I hope this . . .

This IKEA Hack/Makeover inspires you to create something like this for your little one(s)!
Makeovers do not have to expensive. I always try to use things that I already have at home or what I find in the clearance section or second hand. 
Plus, they are fun and allows for more creativity for your children. 
If there is a toy that your kids no longer plays with anymore, see if you can give it a mini makeover!
Tenley now plays with her "new" makeover kitchen more because it fits her personality more, as she had a more creative input in this design. 
Still debating about IKEA Duktig Play Kitchen?
You may be wondering why you see so many Ikea play kitchen hacks on Pinterest and Instagram.
Parents love the Ikea play kitchen for many reasons:
♦ It is height adjustable.
This kitchen is good for years to come! It is appropriate for toddlers and on. 
♦ It is affordable at $99.
♦ It is 100% easy to personalize!
♦ It is a FUN Ikea Hack.
Truth be told… Ikea Hacks are my obsession!
Have you done an Ikea Duktig Hack? 
I would love to see your transformation!
↡ ↡ PIN IT on PINTEREST ↡ ↡